When it comes to food I eat, it must meet two expectations of being both cheap and delicious. I'm sure that there are many others that think like me who live by this mantra. Thai food is no exception, with the many eateries we have here in Singapore it is hard to come by a decent Thai food stall that serves cheap and good food. Fret not! We got you covered, here is a list of 4 food stalls we recommend that serves up a mean selection of affordable Thai cuisine.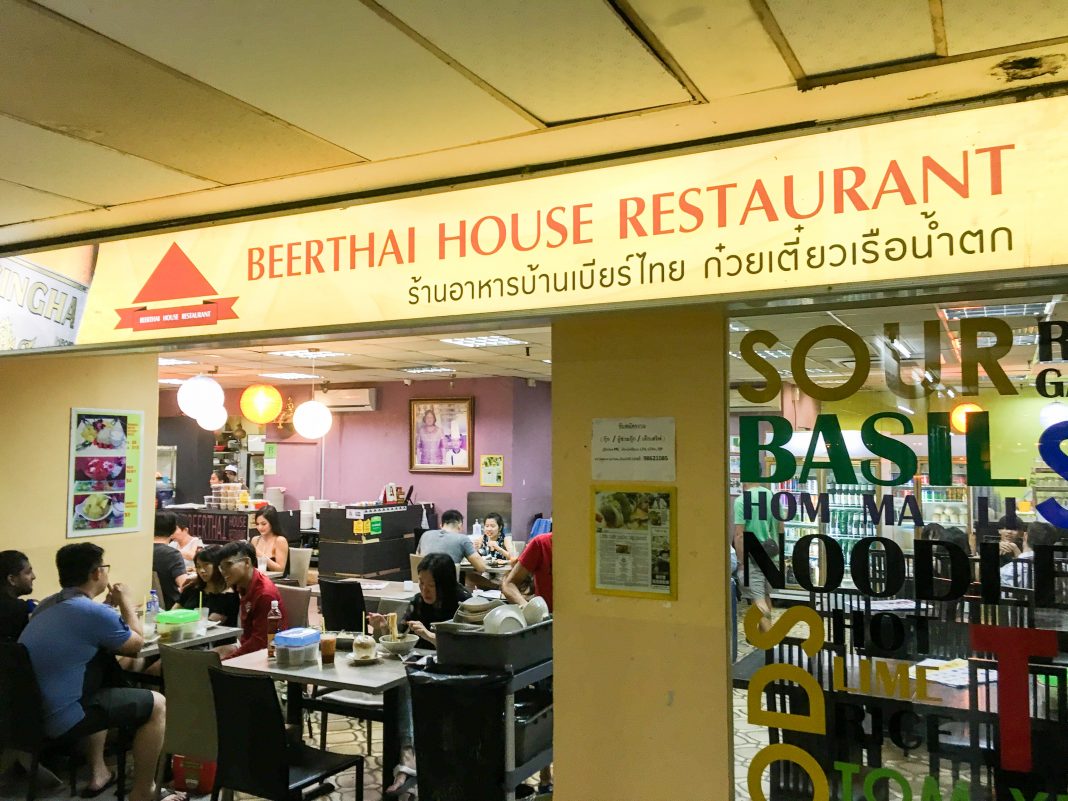 This establishment is located in a rather deserted part of Singapore's little Thailand (aka Golden Mile Complex) but still pulls a hefty crowd. Beer Thai House serves their food in a manner reminiscent of the popular 'Zi Char' style. You can purchase portions of each dish with bowls of rice and share them with your buddies. They serve standard fare dishes such as the rich Green Curry Fried Rice ($6) and succulent Pandan Chicken ($12). There is also an array of unique dishes as well, such as Thai Laksa ($6) and Yen Ta Fo ($5) aka Pink Noodle Soup. With an impressive menu and surprisingly low prices like this, Beer Thai is indeed a must try.
Location: 5001 Beach Road #01-29/30/31 Golden Mile Complex, Singapore 199588
Opening Hours: 11.00am – 10.00pm (Mon-Sun)
This cafe is well known for its Boat Noodles that is sold for only $1.90! Boat Noodles is a noodle dish where the meaty broth is the main component of the dish. It was first served from boats that traversed Bangkok's canals in 1942 but now is widely available in stores on land, in this case, at the Noodle Café.
When ordering a bowl of this tasty noodles from the Noodle Café, you can select your favourite meat, either beef or pork. Then, pick your choice of noodles spanning from glass noodles, bee hoon, tung hoon, and mee kia. Lastly, you will be able to customize the level of spice you are comfortable with. With such a variety of customisability, there is sure to be a combination that suits your taste buds.
Location: 96a Sims Ave, Singapore 387424
Opening hours: 11.00am – 4.00am (Mon-Sun)
With over 13 years of experience serving delicious plates of food to Singaporeans, Aroy Dee is another great Thai restaurant that is truly affordable. Sure, they do not have as extensive of a menu compared to the other establishments on this list however, the few dishes they serve are to die for. You can look forward to all-time favourites like Pad Thai ($8.25), Papaya salad ($8.95) and Green Curry ($8.25). Aroy Dee offers set lunch menus as well! With each order, you can expect to purchase a main course for $5 or below, and a drink of your choice with a $1 top up. What's more? The outlet at Sunshine Plaza closes at 6am daily, a perfect spot for your late nights.
Sunshine Plaza
Location: 127 Bencoolen St, Singapore 189637
Opening Hours: 10.45am – 6.00am (Mon-Sun)
There are other outlets around Singapore if you want to learn more, click here.
This restaurant is very reminiscent to the Soi food stalls back in Thailand with, Thai music saturating the atmosphere and Thai décor all around. Soi 47 serves mouth-watering Thai food that is both affordable and healthy at the same time. At this establishment you will be presented a wide range of food like Basil Pork Rice with Fried Egg ($5), Fried Belachan Rice with Seafood ($6) and Claypot Tang Hoon ($10). To top it all off, Soi 47 makes all their dishes without using MSG!
Locations: Click here if you want to learn more.
Opening Hours: 11.30am – 2.30pm, 5.30pm – 10.00pm (Mon-Sun)
Before speeding down to any of these restaurants be sure to grab a few friends along as its always better to dine as a group than to eat solo. Now you know where to go whenever your mouth is tingling for a flavour explosion.
Interested to learn more about Thai Culture and food? Check out this article on Songkran to find out more about the much-anticipated festival. You can also click here to learn more about Thai cuisine.