Recently we have been seeing so called restaurant hacks published by western content creators. Most of the hacks are carried out in fast food restaurant where the food is rather repetitive and boring.  They hacks showed are meant to give you an elevated dining experience or stretch your dollar. I have taken it upon myself to test these so-called hacks in a Singaporean McDonalds and have learned a couple of tricks that work here.
1. Fresh Fries Every Time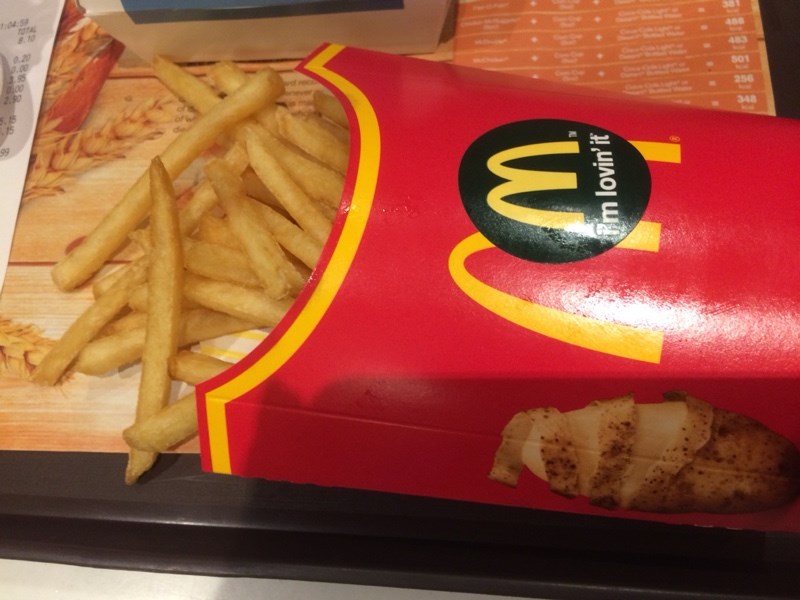 We all have been there before, with our ferociously grumbling tummies, we head over to a McDonald's and they serve us soggy fires. They often prepare their fries in big batches and if they are not served out to customers quickly, the once perfectly crisp potatoes turn soggy.
I learned that they salt every batch of fries as soon as they come out of the fryer, this means that they will prepare a new batch if you request for unsalted fries. If you want them salted, simply grab a salt packet and salt them yourself at the table. Just make sure the cook on duty doesn't see you doing this.
2. Cheap-er Big Mac
This is one is great for people on a budget especially the students out there. The Big Mac is undoubtably the most iconic burger McDonald's has to offer, it's likely the first burger to come to mind when you think of the golden arches. In Singapore a Big Mac cost $5.70 and meal is $7.50.
A way to get it at a 'discount' is to instead order a Double cheese burger ($3.10), add lettuce and request for Big Mac sauce instead of ketchup and mustard.  This saves you a whole $2.60, although it lacks the weird extra bun in between the patties.
3. More Coke!
When ordering a meal, the drink often finishes within 4 measly sips. The cups, in most cases, are filled with 1 part your chosen drink and 3 parts ice.
Next time when you order a drink, ask for no ice to be added. This would mean you get a cup brimming with your favourite drink, and since their drinks are already pre chilled you get all the goodness without it being watered down at the end of your meal. If you would instead like to control the amount of ice in your drink, you can always go back to the counter and ask for a small cup of ice, they will normally accept the request.
4. Cheap-er Big Breakfast
The Big breakfast meal ($7.30) is the go-to order for most earlybird patrons of McDonald's. The popular breakfast platter consists of scrambled eggs, sausage, hashbrowns, 2 slices of muffins and a drink. Something most people don't realise is that the platter is simply a deconstructed Sausage McMuffin.
On your next early visit, just order the Sausage McMuffin meal with and request for a scrambled egg. This alternative will only run you $6.30, that $0.90 cheaper than the Big breakfast meal. You even get a slice of cheese with our hack.
5. Free Ice Cream/Fries/Drink
The new McDonalds app is a game changer for avid fans of the golden arches. On it, there are coupons updated periodically and an interface to request for Delivery without turning on your computer. However, there is one function that remains unknown to most people, the feedback section. I know that you might thing that giving feedback might be a waste of time but, this is different. Upon completing the questionnaire truthfully, you will be entitled to a single use coupon which will allow you to redeem a FREE (with any purchase) side. Most of the time the selection of sides is limited to a small coke, small fries or a vanilla cone but who's gonna say no to free stuff?
So stop eating boring meals and wasting money. Save a couple of dollars while impressing your friends on your next visit to McDonald's with one of these hacks today!