What was once swampland and kampungs is now a bustling and thriving town in southwest Singapore. Sir Cecil Clementi Smith, the Governor of the Straits Settlement from 1887 to 1893, is where this estate got its name from. Clementi is also one of Singapore's earliest HDB locations, having been built between 1975 and 1979. Here there will never be a boring minute or a second you go hungry as it is filled with eateries and establishments. Here are some of the good to eat and things to do when you are in Clementi.
Old Jurong Line Railway Bridge
Defunct and disused is the metal track in Sunset Way and it is what's left of Singapore's former railway tracks which is now commonly seen as the backdrop of many Instagram photoshoots. There were two sets of tracks, one leading north to Malaysia (North-South Line) and the other heading west to Jurong (West-South Line) (Jurong Line). It was eventually phased out in the 1990s when road transportation proved to be more effective than railway transport. This is a perfect spot for your much needed time of peace and quiet and if that isn't up your alley, it doubles as a stunning backdrop for #OOTDs.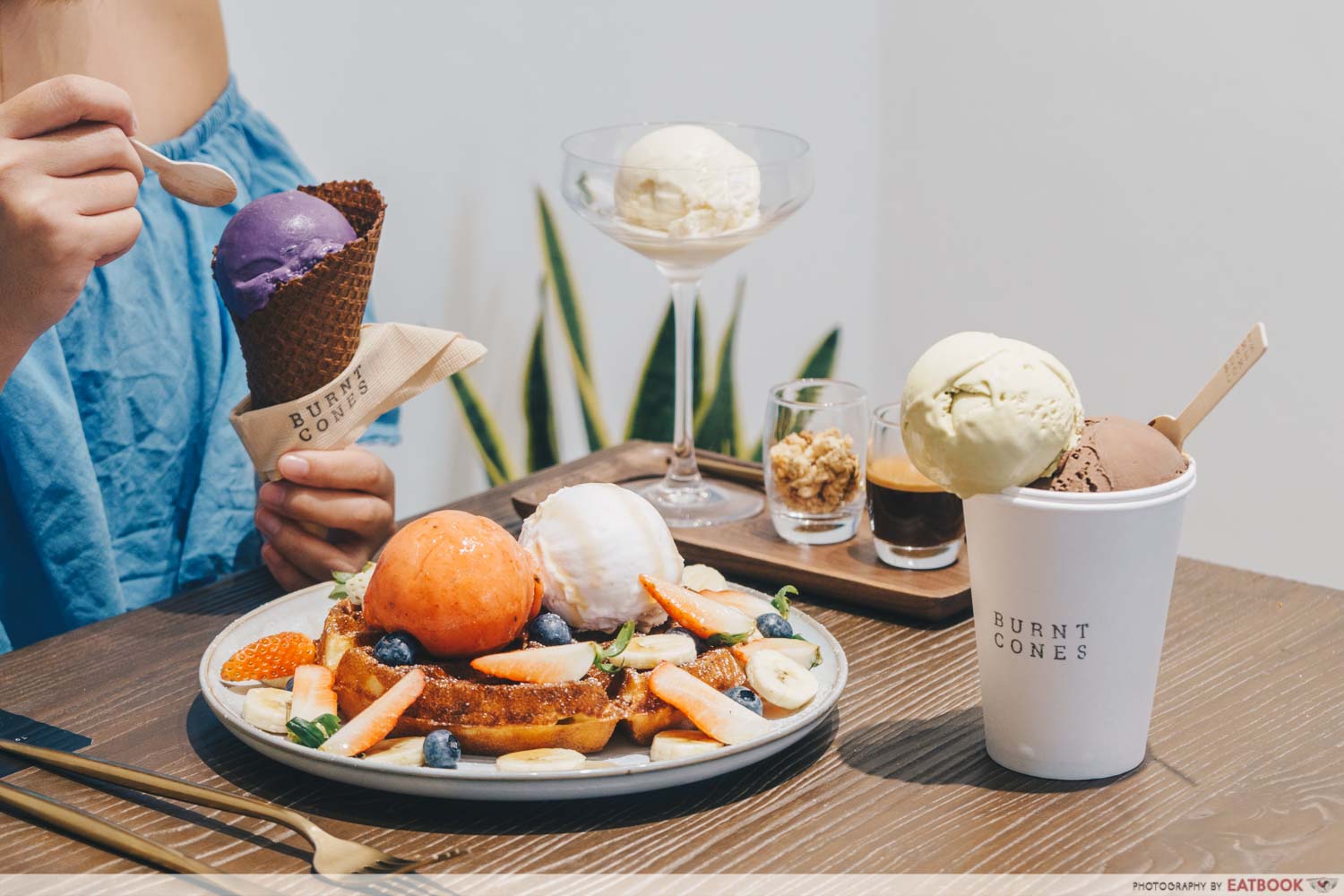 Burnt Cones, the newest addition to the Sunset Way neighbourhood, is a monochromatic and streamlined HDB shophouse spot with gelato served on waffles, cones, and in cups, as well as coffee to help cut through all that sweetness on the menu. This confectionery store opens their doors at 9am for those who want ice cream for breakfast, and those looking for a candy rush before a sleepless night can come in before midnight. With classic flavours like Madagascan Vanilla and out of this world flavours like Scamorza and Ube, there sure is an irresistible pull to Burnt cones especially with this hot weather.
Location: 105 Clementi Street 12 #01-02, S(120105)
Opening Hours: Monday – Sunday | 9.00am to 12midnight
Clementi Forest
Clementi Forest used to be a random, if rather forgettable, patch of greenery. However, in 2020 this spot became that talk of the town after Brice Li captured drone footage of the mystical leafy canopy. Ever since, the 85-hectare site has attracted public interest for its unique biodiversity. Many interested in a little "tree swinging" should stroll south on the Rail Corridor from the Old Bukit Timah Railway Station. If you'd rather stay clean instead of embracing nature, you can take a bus there as well.
Evertop Hainanese Boneless Chicken Rice
Halal Chinese food is hard to come by, let alone delicious Halal Chinese food. Evertop destroys it's Halal and non-Halal competition with their delicious plates of chicken rice. For years, Evertop has served Halal and traditional Hainanese chicken rice. The small stall in Tanglin Halt has since grown to a few locations across Singapore, but the formula has remained the same. With chilli, ginger, soy sauce, and, of course, the fragrant chicken rice, poached chicken is eaten simply but with a plethora of flavors. You can come here and order a humble plate of chicken rice, or go crazy and add on dishes like braised kai lan and sweet chilli tofu to devour with your friends and family.
Location: Blk 354 Clementi Ave 2 #01-259, S(120354)
Opening Hours: 11:00am – 10:30pm (Daily)
Now with the pandemic around, we aren't able to stuff our faces with food like Tu Tu Kueh, which is commonly found in Pasar Malams. Well, Mdm Tan is here to save the day and fill your belly with ridiculously good kuehs. Serving up perfected traditional flavours like coconut and peanut, they also offer flavours such as chocolate chips and oregano. Mr Tan Yong Fa, Mdm Tan Bee Hua's father, is credited with being one of the first inventors of steamed rice cakes after arriving in Singapore from Fujian in 1932. He took the Hokkien snack called song gao, and stuffed it with peanuts or grated coconut and named the snack after the sound the steamers would make back in the day, thus the birth of the name Tu Tu Kueh. If you are ever having the Pasar Malam munchies, Tan's TuTu Kueh is truly a Godsent.
Location: 449 Clementi Avenue 3 S(120449)
Opening Hours: 5.30pm – 9.00pm (Daily)
There are truly some amazing things to experience in Clementi. With this guide why not plan your next hang out in Clementi? It's a no brainer that you will have a fun filled day. Exploring Singapore? Check out things you can do in Ang Mo Kio here!