The term 'Jalan Besar' translates roughly to 'broad or large lane.' It might make you might wonder how large the neighbourhood actually is. The story of Jalan Besar is about two former swamps, one near the Rochor River and the other near the Kallang River. Most of the area between the two points has been restored, and it now houses a variety of budget-friendly restaurants and cafés, as well as cool shops worth spending a hefty dollar on. The Jalan Besar Stadium, which has hosted a number of major sporting activities, is also located here. Here are some of the best things to see, do, eat. So let's get started on some of the thing you can do here if it's your first time.
Beach Road Scissors Cut Curry Rice is a late-night destination for the night owls and the always hungry. The pork cutlet, braised pork, chap chye, and taupok are some of the most common dishes here, which are served until 3.30 a.m. every day. The contrast against other stores comes after you've placed your order: the brisk workers will cut it into bite-size pieces for you until it's stacked high on your plate, then everything will be drenched in a smooth Hainanese curry. Is it unsightly? Yes, but is it tasty? Of course!
Location: 229 Jalan Besar, Singapore 208905
Opening Hours: 11.00am-3.00am (Mon – Sun)
Ban Heng Long Trading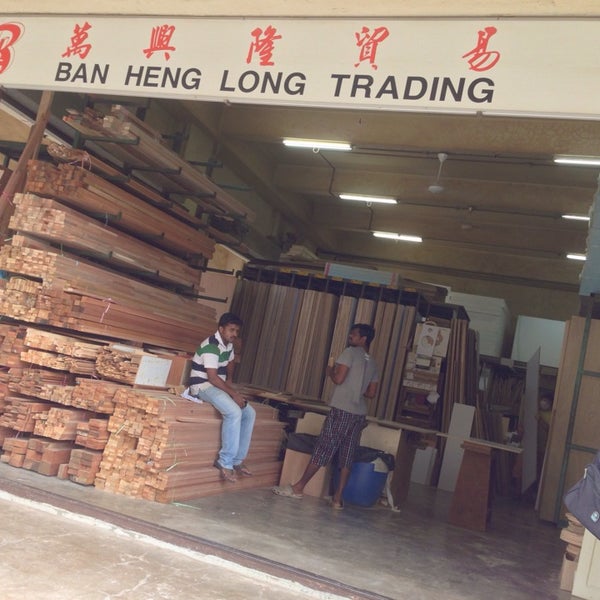 Try your hand at becoming a carpenter at Ban Heng Long if you enjoy DIY and are among the men and women who like to make their own furniture. Although you won't find the materials you might find abroad like elms or oak trees, you will be able to find plywoods and teak that can be cut to your needed measurements. When the wooden panel at the bottom of your favorite IKEA cupboard starts to sag from all the clothes you failed to fold, you can find a new piece here at an affordable price. Why settle for the pre-made stuff when you can get one made to order here at Ban Heng Long Trading.
Location: 11 Syed Alwi Road, #01-07 Teck Heng Long Industrial Building, Singapore 207629
Opening Hours: 8.30am-5.00pm (Mon – Sat)
The name of this zichar stall's signature dish begs the question: how does one fry a normally watery dish? We should praise the Malaysian chef who created this dish for their creativity in repurposing the leftovers for this. Mr. John Ng, the chef-owner, draws on his Ipoh heritage and uses his wok-cooking skills to transform rice and broth into a thick slurry. The dish is then served in a claypot with generous topping of pork lard, fried shallots, and cuttlefish, ensuring that every mouthful is bursting with that signature zichar smoky wok hei flavour we have come to love. To round out your dinner, there's KL Hokkien mee and claypot loh shu fun (aka mee tai mak) on the menu, which will teleport you to memories of meals spent with your family across the crossway. The pandemic makes it hard to travel to Malaysia, with Dynasty Fired porridge your Malaysian food cravings will be put to rest.
Location: 30 Foch Road, #01-02 Singapore 209276
Opening Hours: 11.30am-10.30pm (Mon – Fri) 12.00pm-2.30pm/4.30pm-10.30pm (Sat – Sun)
You can learn almost anything these days on YouTube, but if spinning music is on your list, don't skimp on face-to-face lessons, particularly when they're held at E-TracX, where co-owner DJ Edwin has been running the school since 2003, in addition to his career as a DJ at some of the city's top clubs. With Perk Pietrek, Shin, and KoFlow one of the world's best turntablists who has worked with Kanye West and Missy Elliot on their roster of teachers, it is sure that you will leave with substantial disk jockey knowledge. Once you have mastered the basics, you can even rent a studio deck out with performance standard equipment to mix your favourite tracks.
Location: 411A Jalan Besar, Singapore 209014
Opening Hours: You have to contact them to book an appointment here
Dim sum is undoubtably one of the best form of cuisine to come out of China's Guangdong region with the food being in bite sized pieces making it easy to suck up 30 xiao long baos at a time. If you're hungry for dim sum at suppertime, visit this 58-year-old establishment in Jalan Besar. Swee Choon defies tradition by serving dim sum until the early hours of the morning, which is why it's still bustling after dark at the corner of Syed Alwi Road and Jalan Besar. It now offers a menu of Shanghai and Hong Kong-style local dim sum plates and noodle dishes such as char siew bao, siew mai, har kow, and drunken chicken in Shao Xing wine, thanks to the third-generation owner Mr Ernest's understanding of what the people want. If you are looking for some modern iterations of dim sum, they got you covered as well with creations like mee swa kueh and purple sweet potato salted egg balls.
Location: 191 Jalan Besar Singapore, Singapore 208882
Opening Hours: 11.00am-2.30pm/6.00pm-2.00am (Mon – Sun)
If you spend your next weekend in Jalan besar, it guaranteed that you will have loads of fun along with a full belly of delicious food. So, what are you waiting for? Just be sure to adhere to the new Covid-19 regulations imposed and you will be good to go.