Chong Pang's tale began in 1979 with just a single street, Block 101, and a single main road leading out to civilization. From there, a thriving, close-knit community with a distinct old-school charm developed. Although, tons of old school affairs populate Chong pang, it also has a thrilling selection of hip new establishments that are sprouting from the retro offerings. Chong Pang is set to undergo a massive redevelopment in 2022, so take advantage of the time you have left to experience true Chong Pang with the help of this list.
If you are still on the lookout for good places to lepak, one of our new favourites is Kamikaze Asian Tapas Bar. This chill food joint offers umami packed skewers of shiitake mushroom, chicken liver, pork belly, and more on alfresco terrace by a picturesque, palm-fringed lake at ORTO.
The most famous dish here is Ferris Wheel Fries of Asia, which consists of five baskets of fries served on a cute metal wheel with flavours like mala and wasabi. Drink a two-litre Soju Yakult Tower to wash down the food, or pick from a variety of beer, sake, and other non-alcoholic choices. I'm sure this sounds like the ideal Saturday evening, perfect to chill and unwind over a few drinks.
Location: 81 Lorong Chencharu, 01-05A ORTO, 769198
Opening Hours: 1.00pm-11.00pm (Mon – Sun)
Sembawang Hot Spring
Sembawang Hot Spring is Singapore's only geographical feature which is one of its kind and was discovered in 1908. It was redeveloped as a water bottling facility, a leisure area for Japanese officers, and now a tourist spot. It was renovated for $4.3 million in 2018 and reopened this year as a rustic park with a cafe and learning areas. When you stroll down their stunning path lined with fruit trees and flowering bushes, you'll find a cascading pool to soak your sore feet in naturally warm 50°C water. If you want something to eat? Bring some eggs and a bucket and cook them for about 10 minutes under the tap at the water collecting point to make your own onsen eggs or hard boiled eggs.
Location: Along Gambas Ave
Opening Hours: 24/7
Rainbow Dessert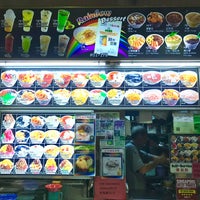 Although many of the stalls at Chong Pang Food Centre are originally from different parts of Singapore, Rainbow Dessert has been there since the market's opening in 1984. Mdm Ong Soo Hoo was in her twenties when she and her husband opened the restaurant, and the old couple has been serving up colourful bowls of sweet treats ever since. The Black Sugar Ice Kacang drizzled with gula melaka is the specialty here, because of the unique flavour the gula melaka has over conventional sugar. Craving for the classics like chendol and tau suan,? You can get them here as well. Whenever you are around the area and have a craving for something sweet, don't think twice, just visit Rainbow Desserts.
Location: 105 Yishun Ring Rd, #01-178 Chong Pang Market & Food Centre, Singapore 760105
Opening Hours: 11.00am-9.30pm (Mon – Sun)
Chong Pang City Gateways
In 1984, Chong Pang City became the first neighbourhood center in Yishun New Town. It used to be home to many shops run by locals from surrounding villages, but the opening of Northpoint Shopping Centre in 1992 seriously impacted business for Chong Pang City. The Chong Pang City Merchants' and Hawkers' Association wanted to give the place a facelift in order to stay competitive, and commissioned a pair of Chinese-style gateways, which effectively helped to attract residents and tourists alike. The Association collaborated with Heartland Enterprise Centre Singapore to open thelocalmart.sg in 2019, a digital marketplace where vendors from the region operate. With things like air conditioners to durians being sold online.
Location: 21 Yishun Ring Road, Singapore 768677
Opening Hours: 24/7
If you are like me and grew up with a variety of toy construction vehicles and equipment, you will love this. Diggersite is here to take things a step further. To dig sand pits or move building blocks, kids and fun-loving adults can now jump into mini hydraulic excavators and cranes. To complete the theme, they'll even get you to wear a neon vest and hard hat. Mr. Edwin Lim, the founder of Diggersite, used to be an architect so rest assured that all the machinery here are genuine representations of the real deal. So, if you are a person who loves large construction machinery, it doesn't matter if you are a kid or adult, you will love this place.
Location: 91 Lor Chencharu, Singapore 769201
Opening Hours: 11.00am-6.00pm (Sat and Sun)
If you a longing for a weekend trip that will allow you to experience old-school Singapore along with the more unconventional modern cafes, do visit Chong Pang. Just be warned that a day in Chong pang is not enough to experience every corner of what it has to offer.