Who doesn't like a good bowl of ramen?  Everybody has a favorite ramen flavor, whether it's Maggi Curry flavour, A1 Abalone Instant Noodle Bag, or Shin Ramyun Spicy Korean Noodle Pack, there's sure to be something that tickles your taste buds. Given the broad horizon of instant noodles flavours to choose from, we have compiled a list of a few that should be interesting enough to help get you through this dreadful phase 2.
Batchelor's Super Noodles: Bacon Flavour
Super Noodles is a dehydrated instant noodle snack manufactured by Batchelors in the United Kingdom (previously Kellogg's) and distributed in Ireland under the McDonnells brand. This bacon instant noodles are a godsend. It's really good when you pair them with eggs and toast. However, you should be aware that your burps might taste like bacon for the remainder of the day.
You can't find this locally so here is a purchase link for you to try it out: Here
Milk Seafood Cup Noodles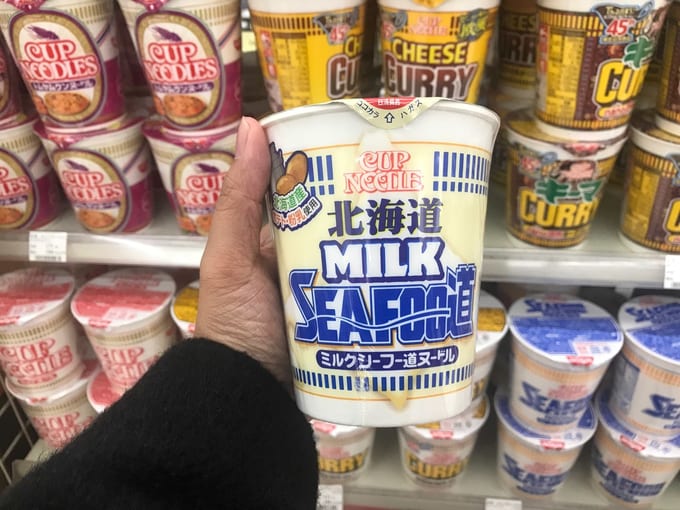 We know it sounds revolting but believe us when we say it's not. Milk-based noodles aren't as rare as you would expect, particularly if you've visited Japan or have chalked up a fair bit of time watching Japanese anime. If you're still not sure, imagine it as a softer, creamier version of your regular seafood cup noodles, with the normal seafood flavor enhanced by the milk. If you can take your fried fish soup with milk, why not your seafood noodles? We can tell you how delicious this really is, but the only way to find out is to try it for yourself.
You might not be able to find stock in your local supermarket so purchase it: Here
Koka Purple Wheat Noodle
Koka is a brand of instant noodles produced by Tat Hui Foods, a Singapore-based company established in 1986. Don't let the purple hue deflate your ramen bubble. The noodles, according to their creators, will have the antioxidant equivalent of 84 blueberries in every 100 grams. In addition to this, the noodles are baked and not fried like conventional instant ramen. This is a flavour and taste you can devour while on a diet without feeling guilty.
You can find this in most supermarkets in Singapore, or you can purchase them online here.
Tomato Pizza Big Cup Noodles
Have you ever been torn between ordering pizza or whipping up cup noodles for a late-night snack? These cup noodles, on the other hand, should solve the issue. Nissan, Japan's most famous instant noodle brand, has a tomato pizza flavour with cheddar cheese, tomatoes, potatoes, and cauliflower! The tomato soup base is extraordinarily rich, and the soup can be consumed on its own. Even though the cheese is a little dull you can always add on your own cheese for that extra oomph. It's really good, considering how ambitious of a crossover this is. I guarantee after just one serving, you'll be stuffed.
You might not be able to find stock in your local supermarket so purchase it: Here
Myojo Dry Bowl Mala Xiang Guo Flavour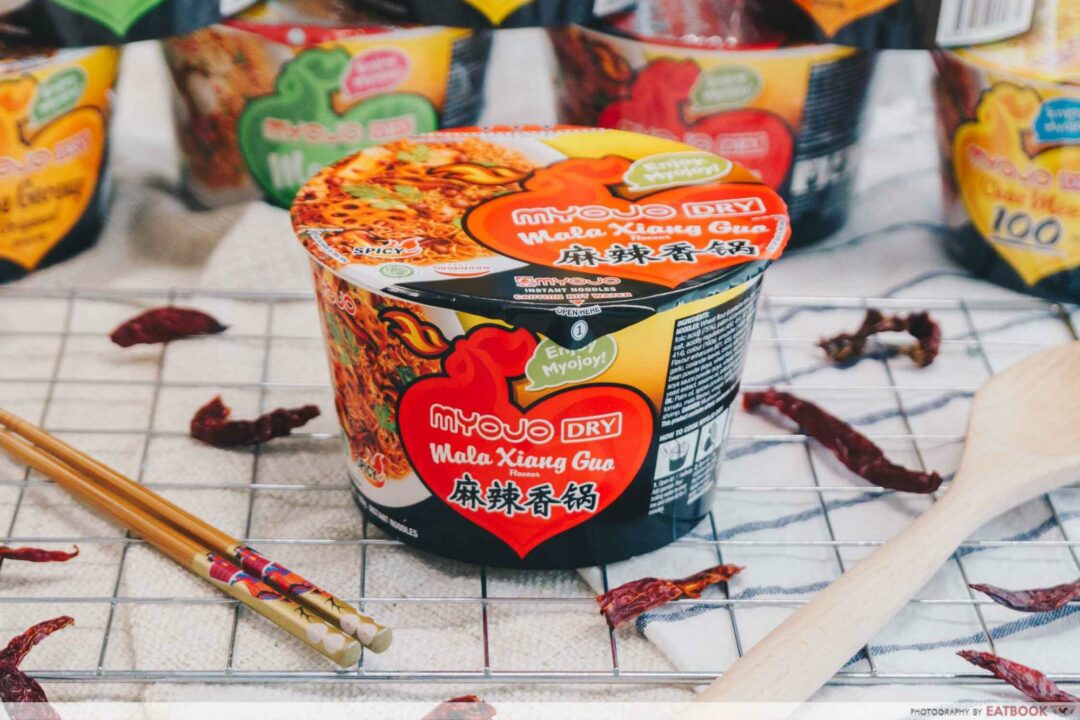 This is an instant noodle for those who enjoy food that numbs their tongues, burn their lungs and in return speeds up their digestive systems. This is perfect for people who want their Mala fix during phase 2. Although, mala in instant noodle form might seem subpar at first, the flavour is truly spot on. In most cases Mala flavoured items only nail the spicy portion but not the numbing portion of the flavour. The Myojo Mala noodle proves otherwise, by being a ridiculously spicy cup of noodle while also bringing about the tingling numbness through the Sichuan peppercorns.
You can find this in most supermarkets in Singapore, or you can purchase them online here.
Don't go too crazy with this list and stuff your face with MSG (monosodium glutamate) packed noodles for the whole month of Phase 2 (Heightened Alert). Instead use this list to spice up your mealtime at home as it is bound to get boring eating the same old food all the time. Check out our list of other things you can do to pass the time here!