Everyone enjoys a delicious burger, and we are not talking McDonald's. The wonderful and layered pleasure, the way its juices flow down your palm as you chow down on a fluffy bread laden with meat and other indulgent toppings is plain sinful.  We have searched for Singapore's best burger and here are a few locations we recommend you to try.
At Ashes Burnnit, the charcoal buns are delicious. The burgers may be darker than they should be, but they still have an outstanding taste at an incredible price. This Muslim-owned establishment can be found at Golden Mile Food Centre. Here, the hamburgers are smashed to create a caramelized top and a juicy inside. This is the place to go for a low-cost, no-frills burger. There are a few burgers to select from, but the Ashes Smash Cheese Burger (from $5.90) is a sure-fire winner. Make sure to complete your meal with a serving of their thick and crispy fries (from $3) as well.
Location: 505 Beach Rd, #B1-24, Singapore 199583
Opening Hours: 11.30am-8.30pm (Mon – Sun)
Hand-formed burgers and fresh, crispy fries from Five Guys are now available in Singapore! Aside from the juicy stacks, which are the major attraction, the fries are also served with care. Every day, two or more "fries calibration" sessions are undertaken to guarantee that each hand-cut potato strip reaches its full potential: hard and crispy on the outside, soft and fluffy inside. Burgers are available plain or topped with cheese on the menu. However, the Bacon Cheeseburger ($17) with two pieces of applewood-smoked bacon should certainly be on your list. Layer your burger with as many toppings as you like, as at Five Guys, there is no limit to the number of toppings you can add from grilled onions, grilled mushrooms, ketchup, mustard, green peppers, and more! After all that enjoy a delicious burger that has won my heart.
Location: Plaza Singapura #01-32-25 Unit #01-32/33/34C/35, 238839
Opening Hours: 11.00am-10.00pm (Mon – Sun)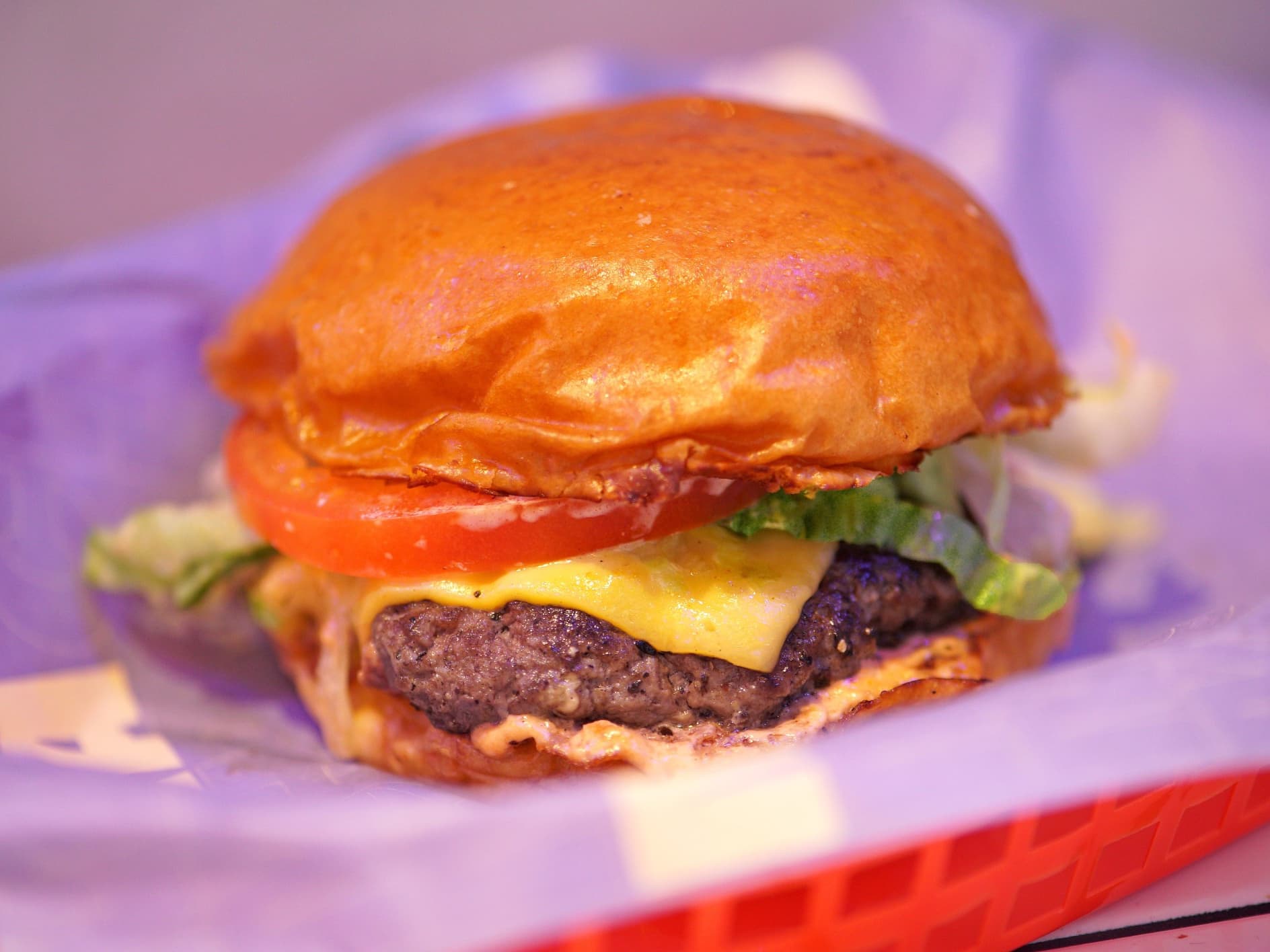 Muchachos is a cool and hip place to hang out at as it is one of the few Mexican fast-food restaurants in Singapore! This eatery claims to wrap happiness in a burrito and constructs it right in front of your eyes. Though the restaurant is famed for its burritos, their Cheeseburger ($12) is well worth the calories. Under a covering of cheddar cheese, the flavours of the savoury patties are balanced by the sweet and sourness of pickles and tomatoes, sandwiched between two fluffy glazed buns.
Location: 182 Cecil St, #01-01 Frasers Tower, Singapore 069547
Opening Hours: 11.00am 9.00pm (Mon – Sun)
Enter Burger Bar New York, a restaurant that is divided into a burger kitchen and a craft beer bar, with the feel of an underground bunker. Get their BB Brekkie Burger ($13), which consists of an 3oz beef patty, bacon, fried eggs for a great pick me up that is available on their breakfast menu from 8am-2pm. We won't usually spend additional money on fries, but their crispy shoestrings ($5.50) are a must when you visit.
Location: 115 Amoy St, #01-03, Singapore 069935
Opening Hours: 11.30pm 10.30pm (Mon – Sun)
When Omakase initially launched in Singapore, it created quite a sensation with their ultra juicy burgers and authentic american flavours. For those who have yet to give them a try, stick to the popular Omakase Cheeseburger (from $18.90), for a classic but still really delicious burger. For the more adventurous, try their Ultimate Cheeseburger (from $24.90) that is topped with applewood smoked bacon, sauteed onions and mushrooms that is sure to please.
Location:  879 Bukit Timah Rd, Singapore 279892
Opening Hours: 12.00pm 10.00pm ( Mon – Sun)
Don't forget to bring your buddies along when your going down to any of these joints and do check out our other articles here!