Ramen has become a regular part of our meals with all the instant noodles we have been eating. You don't have to be Japanese to enjoy a wonderful bowl of ramen. What's not to like about the rich, thick broth, chewy noodles, pieces of char siew, and the gloriously flavourful egg with its gleaming golden yolk? Are you ready to indulge on heaps of noodles? Here are our recommendations for some of the best ramen shops in Singapore.
Tsuta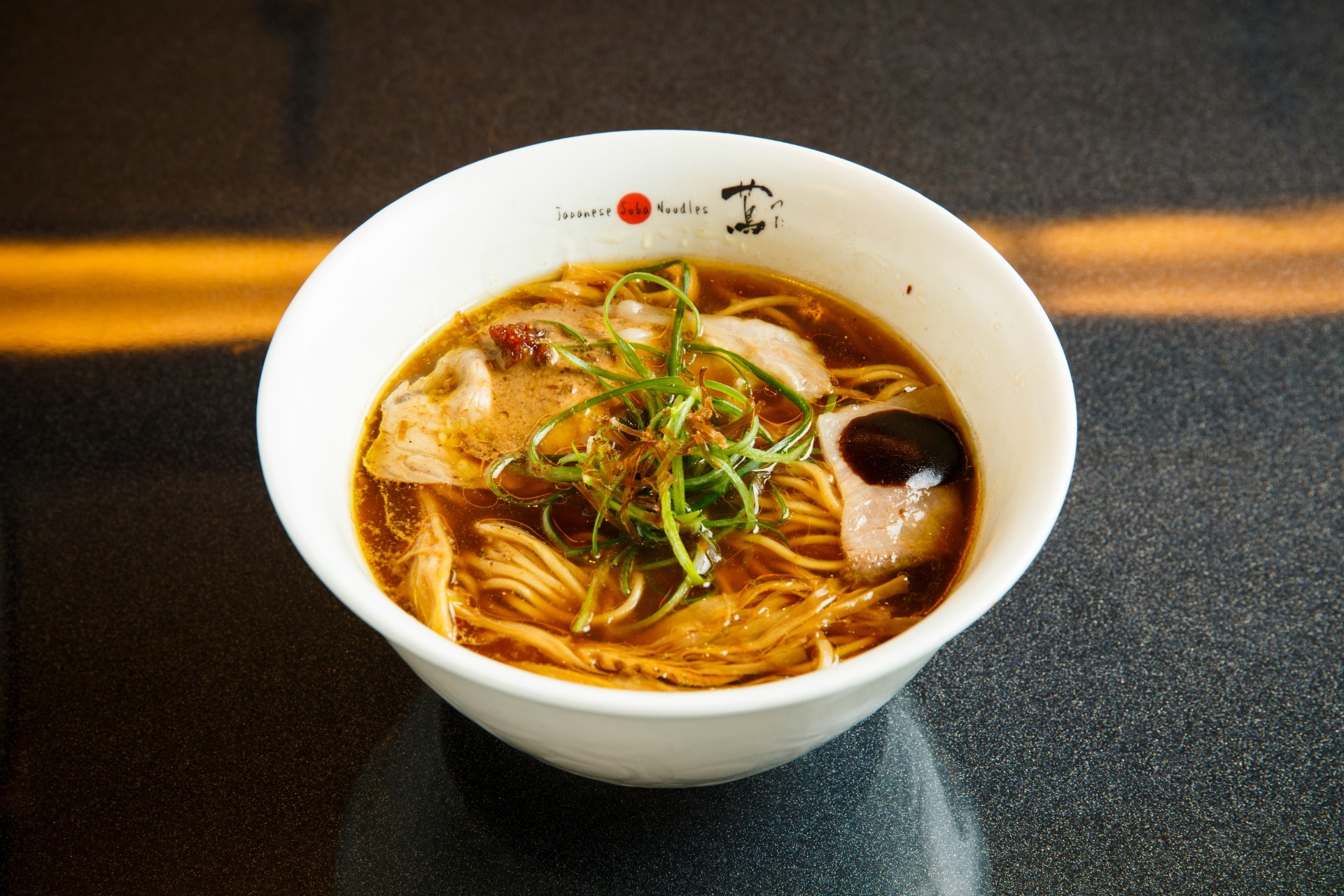 Tsuta, the world's first one-Michelin-star ramen restaurant, opened its first international location in Singapore. Founded by chef Yuki Onishi, it is known for its firm bite and silky texture noodles created from four varieties of whole wheat flour. There are three varieties of soup bases to choose from: shio, miso, and shoyu. The shio is produced with rock salt, red wine, and rosemary while the miso is prepared with a in house produced soya bean miso incorporated chicken soup base. However, the shoyu, which is served with black truffle ($22), is the dish to order.
Locations: Jewel Changi Airport | 313 Somerset | VivoCity
Opening Hours: 11.00am – 10.00pm (Mon – Sun) | Delivery
Ramen Santouka
Apart from looking appetizing, Ramen Santouka's outlets also plays a part in their often-snaking lines during peak hour. The menu is more extensive than others, but we would definitely recommend you to try their Tokusen Toroniku Ramen ($17.80). This bowl has melt in your mouth soft slices of Iberian pig jowl served separately from a bowl of yellow noodles floating in a milky broth. Order it with an extra side of rice topped with salmon egg roe to have the a filling yet delicious meal.
Location: 6 Eu Tong Sen Street #02-76, Singapore 059817 (The Central) | City Square Mall
Opening Hours: 10.00am – 10.00pm (Mon – Sun) | Delivery
Marutama Ramen
Marutama Ramen serves a chicken paitan soup with its handmade noodles instead of a pork-based broth and believe us when we say it works surprisingly well. When you choose the basic Marutama Ramen ($14.50), you'll receive a milky white chicken broth topped with char siu, seaweed, and spring onions and ramen, of course. Or if you're hungry, get the Zenbu Nose Ramen ($20), which includes big quantities of pork belly and char siu, seaweed, and a lava egg.
Locations: The Central (Clarke Quay) | 75 Killiney Road | OUE Downtown Gallery | Leisure Park Kallang | Tiong Bahru Central Plaza | Bugis+
Opening Hours: Varies from outlet to outlet thus do check out the most updated timings here. | Delivery
Kanada-Ya
Kanada-Ya is famed for its creamy, rich tonkotsu broth, which is meticulously cooked for 18 hours. If this is your first visit, choose the Chashu Tonkotsu Ramen ($16.90), which includes soft pork collar chashu, wood ear fungus strips, nori, spring onions, and thin, eggy noodles. If you went down with some friends, try the Gekikara Ramen ($18.90) as well.
Location: 10 Paya Lebar Road, Paya Lebar Quarter, #03-30 PLQ Mall, 409057
Opening Hours: 11.00am – 10.00pm (Mon – Sun) | Delivery
Ippudo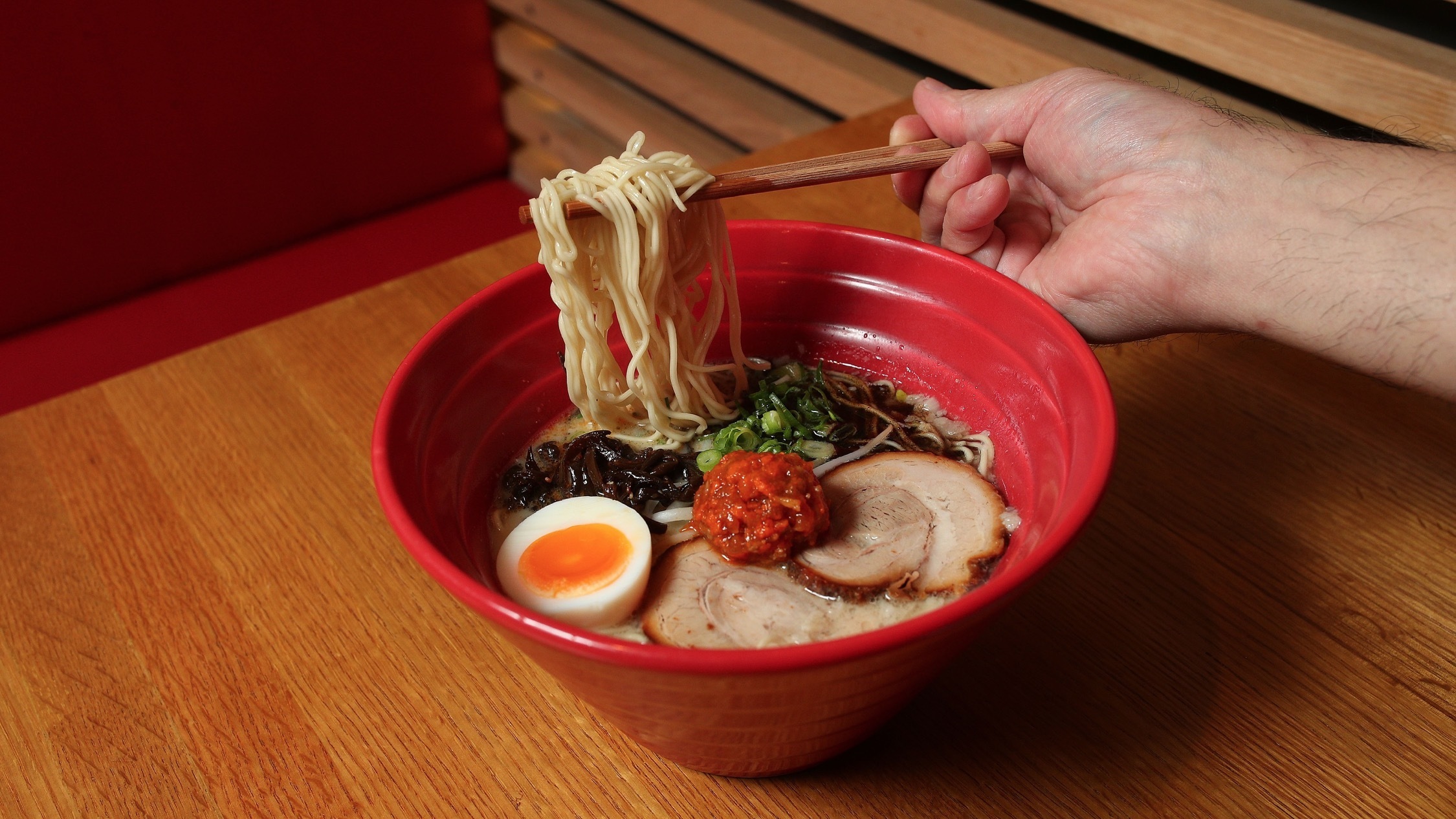 Ippudo's bowls of umami bliss is a worldwide favourite that even has their own ramen meal kit that you can purchase and make at home. The Shiromaru Motoaji Ramen ($15) is their standard ramen across all outlets worldwide, with thin noodles, pig belly chashu, black fungus, and spring onions served in a creamy Tonkotsu broth. The Chicken Shoyu ($20), on the other hand, is a local only favourite, with home-made noodles in a clear chicken broth. Thanks to the yuzu slices, it's also a little refreshing. The ingredients in this hearty bowl include chicken chashu, bamboo shoots, naruto, and leek, to name a few.
Locations: Mandarin Gallery | UE Square | Westgate | Shaw Centre | The Shoppes at Marina Bay Sands | Gucco Tower | The Star Vista | Raffles City Shopping Centre
Opening Hours: 11.00am – 10.00pm (Mon – Sun) | Delivery
Treat yourself to a good meal with these ramen restaurants but don't over stuff yourself with the delicious noodles. Bring a buddy along so that you guys can share and have a chance to taste different varieties from the many stores we have recommended in this list.