Eating good dim sum and enjoying some afternoon tea is something that food lovers will appreciate during tea break. Given the current culinary landscape, many dim sum restaurants are not only good at making traditional dishes, they also specialize in a variety of modern flavours as well. Here are five places where you can get your cravings satisfied.
Arguably the most beautiful dim sum restaurant in the country. Take in the surroundings with Jade's floor-to-ceiling windows while being enchanted by their themed interior design. Here you can expect classics with a twist like abalone siew mai ($9+ for 3pcs) and fresh prawn dumplings ($7.20+ for 3pcs), as well as innovative dishes like deep-fried taro with cod fish and peppercorn ($7.20+ for 3pcs). Check out their bak kut teh xiao long bao for a different take from the original we are accustomed to that is also sure to please. We highly recommend you try their weekend yum cha menu where you can order up to 15 items from their list of dim sum, appetizers, main courses and more from $55 per pax (min. 2 to dine)!
Location: 1 Fullerton Square, Singapore 049178
Opening Hours: 11.30am-3.00pm (Mon – Fri) | 6.30pm-10.30pm (Mon – Sun)
Redstar is definitely worth your time as they are one of the few dim sum restaurants in town that offers a genuine pushcart experience with 1960s décor to go along with it. Ordering food here is part of the fun, so leave your self-control at the entrance. The friendly waiters will roll their carts to your table to sell you baskets of steaming liu sha bao ($4.70) and broth filled xiao long bao ($4.50)  while stamping your card to keep track of orders. Do give this place a visit if you want a vintage Hong Kong experience that stays true to the olden days.
Location: 54 Chin Swee Rd, #07-23, Singapore 160054
Opening Hours: 8.00am-3.30pm (Mon – Sun) | 6.00pm-10.00pm (Mon – Sun)
 We know that having a group of friends with different dietary restrictions can be a hassle when eating out. Well, this restaurant is ideal for combating that. The Dim Sum Place is one of Singapore's Halal-certified dim sum restaurants that offers up a great xiao long bao ($4.90). The menu includes a broad variety of dim sum and Cantonese delicacies, as well as some unusual items such as deep-fried siew mai ($5.90) and cheese tarts ($5.90) you absolutely must try.
Location: 791 North Bridge Rd, Singapore 198759
Opening Hours: 11.00am-11.00pm (Mon – Sun)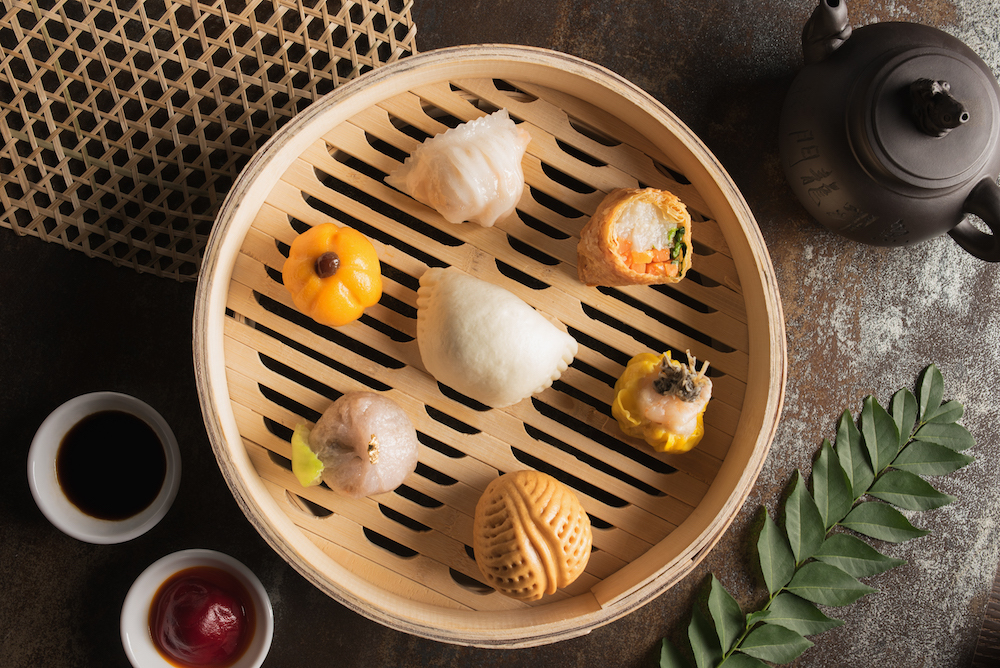 Myo Restobar is a restaurant that hopes to create a lasting impression in the CBD. I can say they are well on their way towards this goal as they understand the different aspects of comfort cuisine well with their dim sum and other home-style Cantonese specialties. Don't miss their trademark Kia Hiang Claypot Spring Chicken ($22), which is prepared using a generation-old recipe. The chicken is wrapped in a layer of Chinese cabbage and stewed in a herbal sauce, resulting in flesh that pulls from the bone.  Apart from their trademark dish, they serve a variety of dim sum, including flaky tenderloin beef dumpling ($5.80), braised chicken feet in abalone sauce ($5.20), and mushroom and black truffle dumplings ($5.20).
Location: 138 Robinson Road Oxley Tower Lobby 1, #19-01, 068906
Opening Hours: 11.00am-3.00pm (Mon – Sun) | 5.00pm-10.00pm (Mon – Sun)
With so many contemporary restaurants offering their own take on dim sum, it's difficult for a traditional Chinese eatery to stand out. However, this is not a problem for Yan, as they have team of veteran chefs from Hong Kong to help push their offerings. Along with familiar dim sum favourites like carrot cake with Chinese sausage ($5.80) and steamed pork and prawn dumplings topped with fish roe ($8), the dim sum menu features unique Singaporean flavours like pan-fried chilli crab buns ($9) and steamed Hainanese chicken with sticky rice ($4) as well.
Location: 1 Saint Andrew's Road #05-02 National Gallery, Singapore 178957
Opening Hours: 11.00am-2.30pm (Mon – Sun) | 6.00pm-10.30pm (Mon – Sun)
Although you likely won't get the 'authentic' experience of crude waitstaff and loud banging of cutleries in Hong Kong, the taste is as good as it gets here in Singapore. With that, we hope you have enjoyed this list. If you are looking for more food inspired articles to check out the other ones we have to offer.