A modest date isn't always a bad thing, especially here in expensive Singapore. So grab your sweetheart and get ready for a romantic adventure without the expensive restaurants or champagne. These budget-friendly date ideas will keep your partner happy and wallet safe and sound.
Changi Point Coastal Walk (Long Walk)
Take a romantic trip down the boardwalk at Changi Point's western end beneath a blanket of stars. Begin in the east near Changi Creek before travelling the 2.2-kilometer length that overlooks Johor. The walkway is lit with lovely lights as the sun sets. During the day, bumboats transport day-trippers to Pulau Ubin, and wildlife may be seen as you walk past Changi Beach. It's also a fantastic spot to view the spectacular sunset. What could be more romantic than looking into each other's eyes with the sea breeze in your hair and the crashing but tranquil waves in the background?
Location: 6 Changi Village Rd, Singapore 509907
Opening Hours: 24/7 | Price: Free
Artary (Art Jamming)
At Artary, you can get your art groove on! Sit down with a cup of coffee, a few snacks and create your finest work on the available canvas. If you're not a brilliant artist, don't try painting portraits of each other; instead, try painting things that remind you of your significant other. Set your inner creativity ablaze by pouring your emotions out on the canvas.
Locations: Tampines Mall | Punggol | Kovan | Bukit Panjang | Jurong | Novena | Harbourfront | Paya lebar
Opening Hours:
Monday To Friday: 11.30am – 5.30pm | 6.00pm – 9.00pm
Saturday & Sundays: 10.00am – 1.00pm | 1.30pm – 4.30pm
Price: $39.50 per pax (1 For 1 Limited Time Promotion Ongoing. T&Cs Apply.)
Marina Barrage (Watch The Sunset)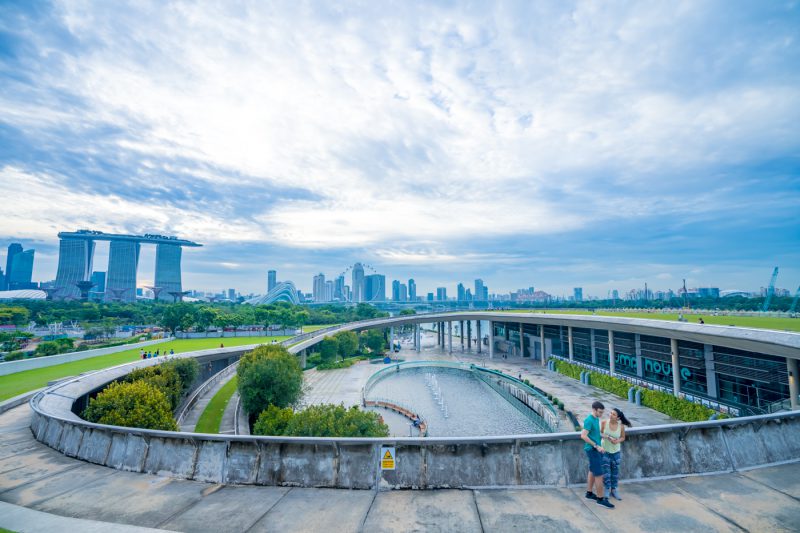 Thanks to the park having an all-encompassing view of the bay and it being open 24 hours a day, you and your significant other may arrive as early as you like to witness the magical sun rise or sunset over the city skyline.  Whether you lay up a picnic blanket or simply take a rest on the benches, you'll be treated to a beautiful view of the wide sky sprinkled with a couple of kites, the ideal setting for a great date (as long as the weather permits).
Location: 8 Marina Gardens Dr, Singapore 018951
Opening Hours: 24/7 | Price: Free
Did you know, every Friday (excluding public holidays), from 7.45pm to 10pm, you can go to the Science Centre Singapore Observatory to look at the stars? Depending on when you visit, you may get a chance to spot at least one of the four greatest planets in our solar system, Venus, Jupiter, Saturn, and Mars. Apart from that, you will be able to get a closer look at the stars and the moon as well. This is a great activity for you and your partner to stargaze and see a different view from the usual ceiling lights and HDB buildings. It can't be more romantic and Hollywood like than this.
Location: 15 Science Centre Rd, Singapore 609081
Opening Hours: 24/7 | Price: $14 per person (Reservation Required)
Haw Par Villa (Budget Theme Park)
Known as the "eclectic chinese mythical park," according to the Singapore Tourism Board, but to us, we know it as the park that frightened us into not wasting food and obeying our elders. Seize the opportunity and take advantage of Haw Par Villa's free entry for a quirky date. Tell one another about the naughtiest things you did as a kid and the consequences you faced from your parents. Then end it all with a tour of the 10 gates of hell and try not to come home too terrified.
Location: 262 Pasir Panjang Rd, Singapore 118628
Opening Hours: 10.00am-4.00pm (Mon – Fri) | Price: Free
We hope this list will help you save a few dollars without loosing out on the fun. If you feel bad for not being able to bring your partner out for 'something better', it's essential to remember that it's the memories you make that matter and not the amount of money you spent.