Unlike common view, there are various outdoor activities in Singapore that you can do to help you keep in shape.  After all, we are a tropical island with nature parks, reservoirs, and beaches. Kayaking is a common bonding sport that may or may not bring up memories of school camps and other fun activities during our younger days.
Kayaking is not only a fantastic way to de-stress, but it's also a fun way to spend time with family or on an unusual date.  Here is a list of places you can rent a kayak and get in the water here in Singapore.
Ola Beach Club has been a popular destination for Hawaiian-style meals, from Lomi-Lomi Salmon ($16) to Kalua Pork Tacos ($23) since it first opened in 2016. Apart from the food, the beach club offers a wide range of water sports, including jet skiing, banana boating, and stand-up paddle boarding and even kayaking.
While enjoying the picturesque surroundings of Southern Singapore, row down Siloso Beach in single or double kayaks with friends and family. A fun morning out on a kayak will cost you from $25 to $35 per hour, depending on the size of a single kayak.
Location: 46 Siloso Beach Walk, 099005
Opening Hours: 10.00am-8.00pm (Mon – Thu) | 10.00am-10.00pm (Fri) | 9.00am-10.00pm (Sat) | 9.00am-9.00pm (Sun)
The BCA Green Mark Platinum and Universal Design award-winning building, Passion Wave @ Marina Bay is a piece of environmentally friendly architecture with green elements strategically placed near the Marina Reservoir. The tranquil waterways are excellent for novices to learn kayaking, dragon boating, bell boating, and pedal boating as well.
A true all-inclusive water sporting establishment which is guaranteed fun for the entire family. Here you can expect beginner orientation 2.5-hour orientation session to set you back around $18 per individual.
Location: 11 Rhu Cross, Singapore 437440
Opening Hours: 9.00am-6.00pm (Tue – Sun)
MacRitchie Reservoir, one of the four reservoirs that make up the Central Catchment Nature Reserve, is one of Singapore's most tranquil areas. While it is well-known for cross-country jogs, the calm waterways make it an ideal location for kayaking as well.
The Singapore Canoe Federation operates Paddle Lodge in MacRitchie Reservoir, which means you will only find kayaks around.  A single or double kayak will cost you about $15 per hour, so grab a friend along to save some money.
Location: MacRitchie Reservoir
Opening Hours: 9.00am-10.30am, 2.00pm-4.30pm (Mon – Sun)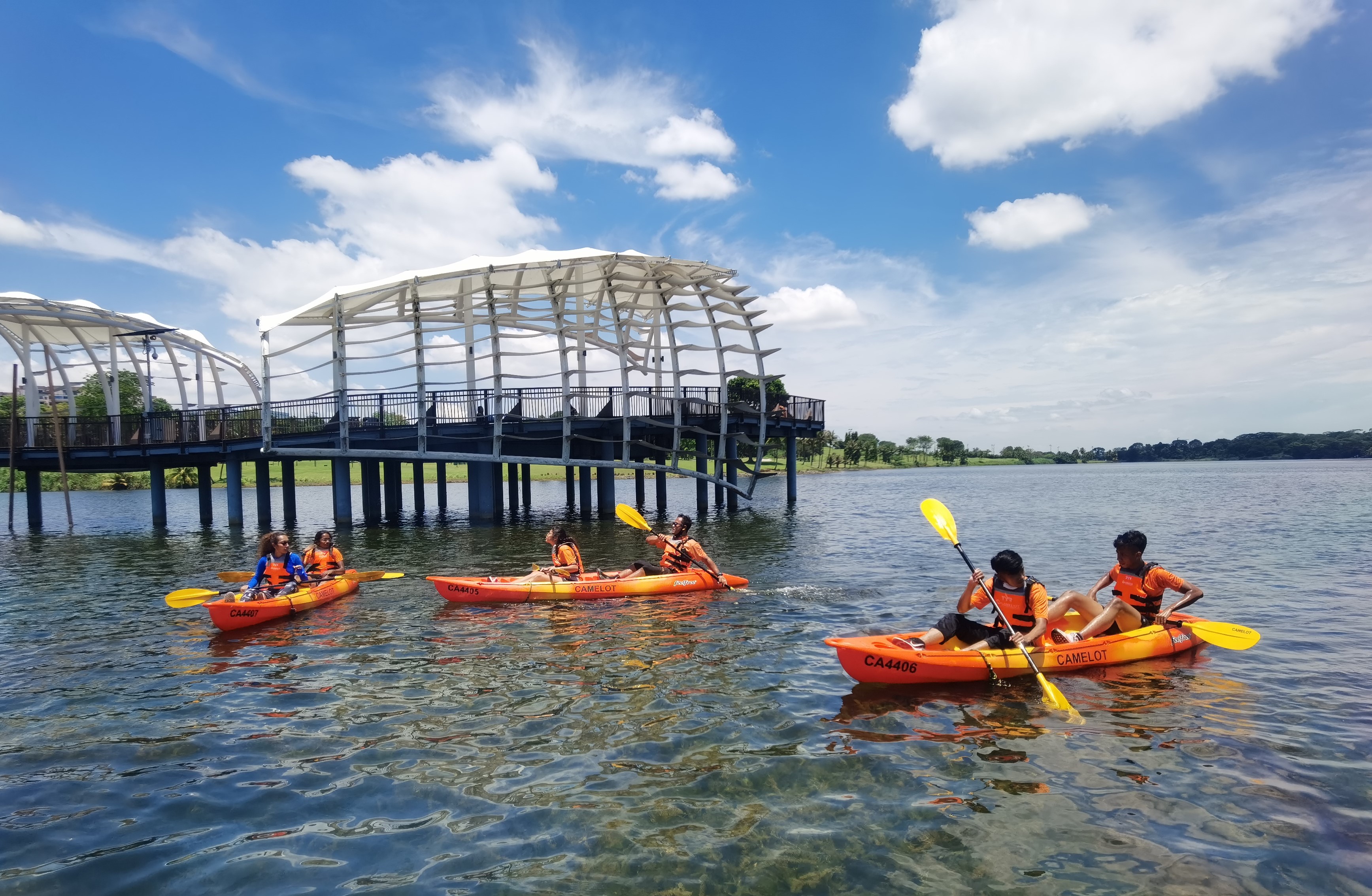 Kayaking is one of the many recreational sports available in Lower Seletar Reservoir Park. Come here on the weekends for a whole day to peacefully paddle down the reservoir's lovely waters while admiring mother nature.
A two-hour kayaking session costs $14 per pax at their new water sports centre in Khatib. After a long session of kayaking here you can kick back at one of the pavilions to enjoy the rest of the day overlooking Lower Seletar Reservoir.
Location: 100 Yishun Ave 1, Lower Seletar Water Sports Centre, Singapore 769140
Opening Hours: 8.00am-6.00pm (Fri – Wed)
This Park is well-known for a variety of things, Singaporeans usually flock to Pasir Ris Park to enjoy a mind clearing stroll down the boardwalks overlooking the mangrove swamp or to bird watch at the three-story viewing tower. However, it is undeniable that it has a beautiful shoreline and waters above everything else.
That being said, you can bike along the waters or rent kayaks at Ohana Beach House to experience it first-hand. A sit-on-top kayak costs $10 an hour, while a sea kayak costs $14 an hour. It's guaranteed, you will have a great time in the waters, but do take note that crocodiles have been said to roam the waters, so be careful.
Location: 131 Pasir Ris Rd, Singapore 519148
Opening Hours: 3.00pm-10.30pm (Mon – Fri) | 10.00am-10.30am (Sat – Sun)
Whether you're searching for a way to unwind after a long week at work or something new and interesting to do on your next weekend getaway, try kayaking for a splashing good time.