Singapore is a stunning city with a plenty of photogenic spots. From calm green areas and mind-blowing sites to vibrant streets lined with murals and skyscraper-studded skylines, there's something for everyone. Here is a comprehensive guide on the most Instagram-worthy places in Singapore.
Bukit Timah Railway Station
Bukit Timah Railway Station is a heritage landmark that has been open to the public since September 2011 and has become one of Singapore's most famous photography spots. Despite being in the middle of a modern metropolis, the station's colonial architecture and iron bridge gives it a rustic and nostalgic vibe. Travelers visiting the site can stand, sit, or even lie down on the bridge's iron tracks without danger of being hit by approaching trains, unquestionably a one-of-a-kind experience in Singapore.
Location: 1 Railway Station, Singapore 599938
Opening Hours: 24/7
Former House of Tan Teng Niah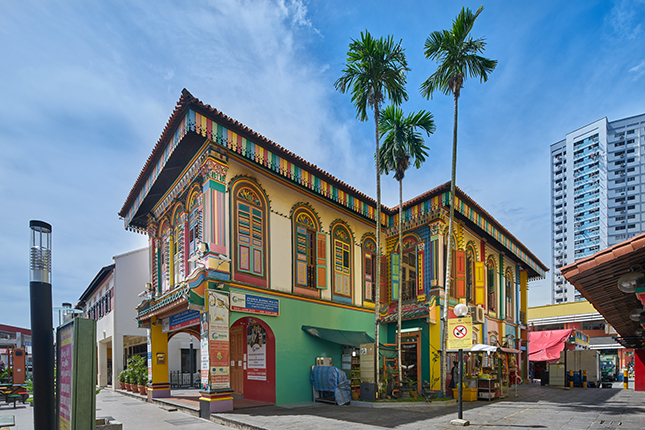 Apart from the vivid street art at Haji Lane and the colourful peranakan homes in Joo Chiat, the House of Tan Teng Niah is another fantastic photo spot for a much needed splash of colour on your Instagram page. The old house of Tan Teng Niah, which is located in Little India was built in 1900s and restored in the 1980s for commercial use and is one of the few Chinese villas surviving in modern Singapore. It not only has a fascinating history, but also provides a vibrant backdrop for Instagram-worthy images.
Location: 37 Kerbau Rd, Singapore 219168
Opening Hours: 24/7
Marina Square Rooftop
Though it was intended to serve as a well constructed emergency escape, this labyrinth-like rooftop space has a distinctive design that makes for Instagram-worthy photos when viewed from above, giving the impression that you are imprisoned in a maze. All the twists and bends in this maze-like escape route appears to lead nowhere, creating a baffling illusion with tiny white paths. This route may be difficult to spot, but here's how to get there. Make your way to Marina Square and exit through the door nearest to Samsonite (#02-81). Keep walking till you see a door marked "Stair 30-D-1" on your right. Once you find your way, pray hard to the maze gods so that you can find a way out!
Location: 6 Raffles Blvd, Marina Square, Singapore 039594
Opening Hours: 10.00am-10.00pm (Mon – Sun)
National Gallery Singapore
The restored, defunct City Hall and Supreme Court buildings that make up the National Gallery strike a perfect mix between historical and modern architecture, representing both Singapore's past and present. When you visit the area, you must photograph, see, and feel the olden architecture for yourself, as it's a majestic site to behold. After you are done taking photographs, enter the museum if you enjoy visual arts, and browse the rotating exhibits for a peaceful end to your evening.
Location: 1 St Andrew's Rd, Singapore 178957
Opening Hours: 10.00am-7.00pm (Mon – Sun) | Entry: Free For Locals
CÉ LA VI
While most Singaporeans are familiar with the spectacular view of Singapore's skyline from MBS's infinity pool, a similar scenic view is also available at the rooftop bar CÉ LA VI Singapore, which is located directly next to the pool and is open to the public. CÉ LA VI provides a bird's eye perspective of the heart of Singapore, with views of the magnificent Gardens by the Bay and Marina Barrage on one side and the breath-taking city skyline on the other. Here we promise you will get some stunning photos while you spend the night away with your friends or loved ones over a well-made cocktail of choice.
Location: 1 Bayfront Avenue Marina Bay Sands, Hotel, Tower 3, 018971
Opening Hours: 4.00pm-10.30pm (Mon – Fri) | 12.00pm-10.30pm (Sat) | 12.00pm-9.00pm (Sun)
Beauty is everywhere here in Singapore, all you have to do is to find a new perspective. Have we piqued your interest? It's now time to embark on an Instagram trip with your handy smartphone and some buddies.