In today's modern world, we often find joy in slowing down and indulging in a little nostalgia. Trends from previous decades are making a comeback, from pre-loved and vintage clothing stores to retro-inspired cafés and bars, and re-emerging hobbies like film photography. In this list we will bring you through the view places where you can experience retro culture in Singapore.
The Vintage Camera Museum is a must-see for photography lovers. The museum, which houses over 1000 old cameras, is the first in Singapore to be dedicated to a collection of the analogue instrument in fact, the structure itself is modelled after a huge Rollei camera.
Everything from innovative old-school spy cameras (think James Bond type rigs) to handgun cameras are on exhibit. Aside from photography equipment, the museum features vintage pictures, intriguing photography facts, and an exact copy of the first image ever taken with a camera.
Location: 8D Jln Kledek, Singapore 199263
Opening Hours: 10.30am – 7.30pm (Mon – Sun) | Price: $19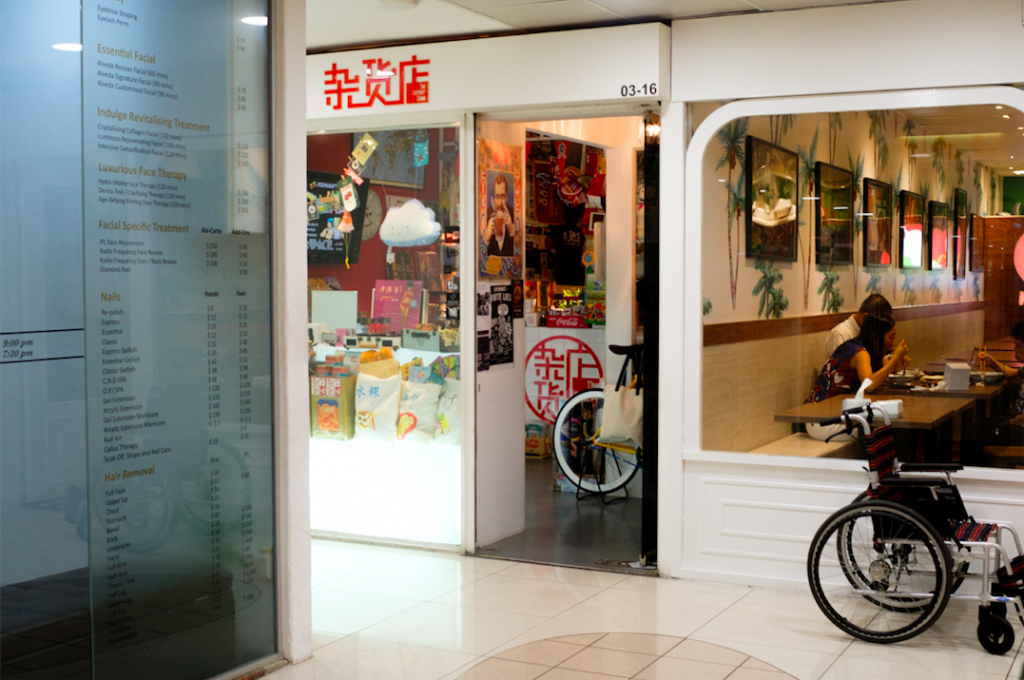 This shop at Far East Plaza named Zha Huo Dian, loosely translates to "the convenience store," sells nearly everything from a nice mix of local and foreign brands. Graphic tees, canvas jackets, bowling shirts, fashionable bucket hats, floor rugs, and more may be found there, along with a sense of nostalgia.
You could even come across vintage action figures, gadgets, old-school souvenirs, and vinyl records if you look around. If you are into streetwear and styles from the glorious 90s this is a spot you shouldn't miss.
Location: #03-16 Far East Organization, Singapore 228213
Opening Hours: 12.30am – 8.30pm (Mon – Sun)
With its grilled shophouse facade, tiled flooring, and rattan seats, Sinpopo aspires to be Singapore in the 1980s. Much of the furniture is also handcrafted by the brand's founders, demonstrating the time and work that has gone into this establishment.
Their signature nasi lemak rice for 2 ($28) is cooked in a muslin cloth, while the coffee (from $5) is brewed Nanyang-style with the kopi sock to keep things old school.  Desserts are also paying homage to local culture as well, with gula melaka, pulut hitam, and kueh salat cakes ($8 each) being among their most popular options.
Location: 458 Joo Chiat Rd, Singapore 427671
Opening Hours: 8.30am – 10.00pm (Mon – Sun)
Not only with fashion, but also with interior design, retro and vintage styles are back in style. With antique treasures from Second Charm, you can get that old-school style in your house.
In 2001, the business opened as a vintage furniture store, offering reconditioned chairs, ottomans, coffee tables, chests, and other items acquired locally. Second Charm has also been producing its own items since 2010, with styles ranging from mid-century modern to Scandinavian and French.
Location: Blk 21 Kallang Avenue #05-165 Mapletree Industrial Building, 339412
Opening Hours: 11.00am – 5.00pm (Mon – Sun)
This modest eating destination, which was formerly a Royal Air Force (RAF) camp, is now a vintage memorabilia museum. Antique bicycles, old cameras, and kerosene lights are just a few examples of the things it's furnished with.
The restaurant is big, airy, and close to nature, with natural vegetation and waters spanning all around it. Here people usually go for their sharing plates which includes har cheong gai (prawn paste chicken) ($16), crispy pork ribs ($16), and wagyu cubes ($24), while mains include nasi campur ($26), scallop and prawn laksa ($26), and wagyu beef hor fun ($28) all cooked to perfection.
Location: 200 Netheravon Rd, Singapore 508529
Opening Hours: 10.30am – 11.00pm (Mon – Fri) | 8.30am – 11.00pm (Sat – Sun)
There's something about retro looking locations that makes us feel a sense of wonder and nostalgia. These places have always held a special place in our hearts, whether it's the recollection of simpler times or the familiar sense of a carefree childhood.