Our city is abundant in flora and wildlife, which can be found in its numerous natural reserves, lush areas, and beaches and parks. As people who love the outdoors and all it has to offer, it can be hard to experience the same excitement when we are working in a office or from home. In this list we will be sharing with you guys about the various hidden floral escapes we have in Singapore.
Funan Mall Rooftop Garden
Take a break from the electronic paradise of Funan and head out up to it's roof to the Edible Garden City's urban farm, which has long promoted the grow-your-own-food trend in Singapore. Over 50 different fruits and vegetables may be found in the rooftop garden, including mushrooms, edible flowers, okra, basil, mint, watermelon, lemongrass, and passionfruit. It's also readily accessible to the public, and visitors who are curious may learn about how veggies are grown and harvested there.
Location: 107 North Bridge Rd, Singapore 179105
Opening Hours: 10.00am-10.00pm (Mon – Sun)
Roof Garden At National Gallery Singapore
The city's largest art gallery also houses one of the most beautiful rooftop gardens. Green walls surround the concrete space, with chairs for studying, a water feature, and plenty of ferns adding to the garden's lush atmosphere. Many art pieces by local and international artists have brightened the garden throughout the years, making it the ideal background for Instagram and wedding photographs. It's also one of the best places in the city to take in the sights of downtown Singapore.
Location: 1 St Andrew's Rd, Singapore 178957
Opening Hours: 10.00am-7.00pm (Mon – Sun)
Raintree Cove At East Coast Park
If you're enjoying the sun, sand, and sea at East Coast Park, take a break from the high-intensity activities and relax at Raintree Cove, a peaceful haven with a log garden created from salvaged tree logs. The large open field is bordered by areas of beautiful green gardens, with open-sided pavilions placed in the middle to provide refuge for outdoor events and workouts. The multi-swing set is not only for children to tumble around on, but also for adults to release their inner child as well, so go crazy!
Location: 1018 ECP, Raintree Cove S, Singapore 449877
Opening Hours: 24/7
The Mill Garden Terrace
The Mill stands out in a sea of monochrome buildings in an industrial neighbourhood with its contemporary design and Gothic-like tower. It is a creative hotspot on the inside, with a bespoke tailor, a cafe, and a handful of interior design businesses among its tenants. However, if you get to the sixth level, you'll discover a rooftop garden with eye-catching arches and wooden chairs where you can rest your legs or get lost in a book. It is a peaceful, green retreat that gives you a bird's eye perspective of the surrounding area.
Location: 1018 ECP, Raintree Cove S, Singapore 449877
Opening Hours: 24/7
Ginger Garden At Singapore Botanic Garden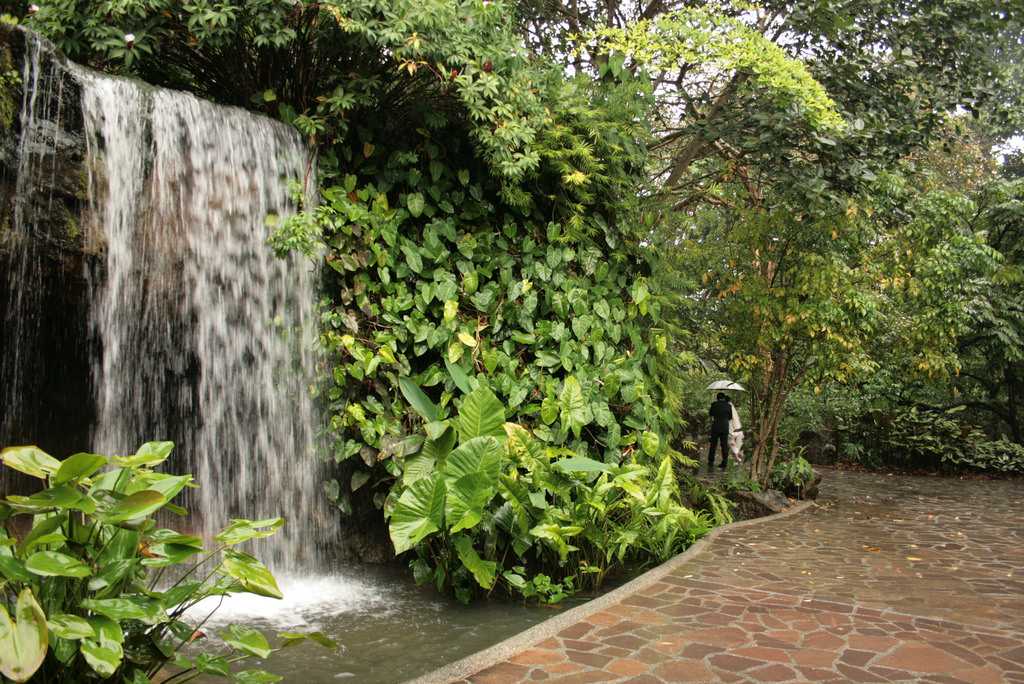 Did you know this UNESCO heritage site is home to almost 10,000 types of plants? The Botanic Gardens, which was founded in 1852, provide an excellent floral escape from the city's bustle. When you walk past the Tyersall gate, the first thing you'll see is a tiny waterfall surrounded by dense vegetation. You may even stroll through a secret tunnel behind it to see the other side of the waterfall. Ginger Garden is full of colourful blossoms and popular with photographers and couples looking for a stunning location.
Location: 1 Cluny Rd, Singapore Botanic Gardens, Singapore 259569
Opening Hours: 5.00am-12.00am (Mon – Sun)
Given the abundance of concrete structures and congested traffic in Singapore, finding calm green places that provide a mental respite is usually a nice surprise.