Since its beginnings as a fishing town, the GRC in the northeast has come a long way. Back in the day, the location was part of Kangkar, which means 'prosperous harbour,' and was utilised for rubber, pepper, and pineapple crops in addition to fishing. Now, it's a neighbourhood pack with things to do. Here are some things to look forward to on your next visit to Sengkang.
Sengkang Sculpture Park
Sengkang Sculpture Park near Compassvale is a hidden gem if you're seeking art in the middle of nowhere. The sculptural works are divided into two main sections with the concept of sea life and fishing operations as a tribute to Sengkang's heritage. The sculptures in this park, unlike those at a museum, are designed to be interacted with. Anyone may visit the park for free, and you can expect something different each time you visit as there are always several events taking place on a regular basis.
Location: Compassvale St
In Compass One, Zoey's Diner serves salads, burgers, spaghetti, and its specialty dish, trendy bao burgers (#BaoBaes) made with fresh, preservative-free ingredients and come in 3 flavours.  Everything is cooked from scratch every day, from the burger buns to the pasta sauces, allowing this restaurant to be a wonderful alternative to fast food.
The Pepper Braised Steak ($10.90) is one of the restaurant's best-selling items, a burger made with beef short rib that has been slow-cooked for 12 hours. You can also try the Zoey's Chicken Burger ($7.90) with juicy chicken thigh and a wonderful garlic aioli sauce if you prefer chicken instead.
Location: 1 Sengkang Square #01-01 Compass One, 545078
Opening Hours: 11.00am – 9.30pm (Mon – Sun)
This public pool is a little out of the way unless you live on the North East Line, but it's well worth the trip if you have energetic kids who enjoy huge water slides. The eight colourful huge slides, both open-top and tube slides that sends kids plunging directly into the pool are the most eye-catching feature of this swimming complex.
A soothing jacuzzi and a kiddy pool with a tiny slide for toddlers are also available. You may sign up for group swimming classes at any of the two Olympic-sized pools at any time during the week if you a planning to make your child a good swimmer as well.
Location: 57 Anchorvale Rd, Singapore 544964
Opening Hours: 8.00am – 9.30pm (Tue – Sun)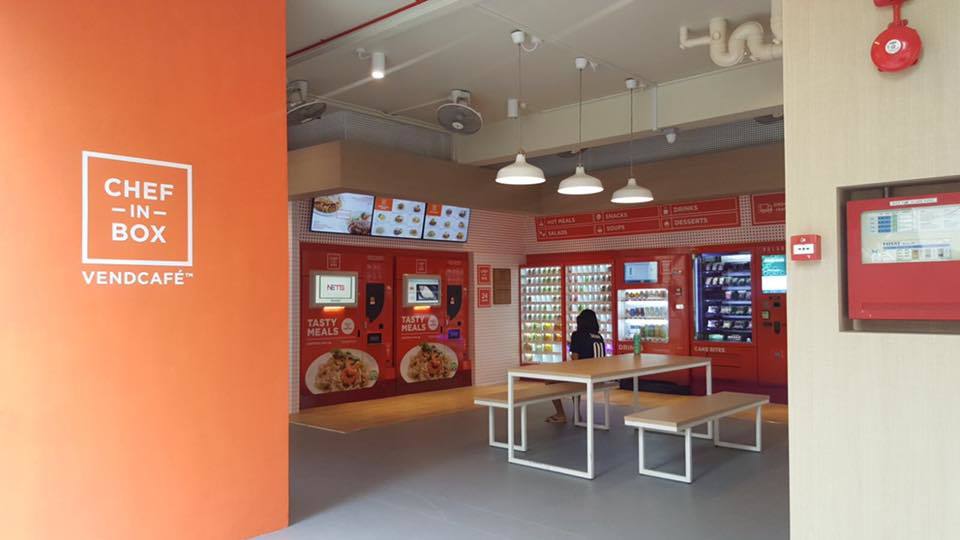 VendCafe at 320C Anchorvale Drive is Singapore's first vending machine café, despite the fact that the concept has been around for a while. This 24-hour establishment offers a cooked meal from the Chef-In-Box vending machines for an innovative 'dine-in' experience.
But these aren't your usual drink dispensing vending machines. The menu includes local favourites like hor fun and chicken rice, as well as Western favourites like mac and cheese and spaghetti bolognese, as well as Japanese and Korean food.
Location: 320C Anchorvale Dr Singapore 543320
This bubble tea chain's aquatic vibe extends beyond its name to its beautiful beverages. The Rivervale Mall location is Singapore's first 24-hour bubble tea outlet. The Whale Tea, which began as one of China's largest dessert businesses, now delivers its blue-hued sweet delights to Singapore.
For a tri-coloured photogenic drink, try the Volcanic Sapphire Whale ($4.50), which is blended with peach gum, coconut milk, and blue spirulina. For something that is sure to 'wow' your bubble tea addicted friends, order the Whale Island Soufflé ($7.50) which include stacks of light pancakes topped with blue spirulina milk cream, chocolate pearls, and a charming white chocolate whale tail.
Location: 11 Rivervale Cres, #01-14, Singapore 545082
No matter if you are here for the weekend or simply live here, do check out some of these places for a fun day out along with a good meal.