Farms? The agriculture business on the Little Red Dot is non-existent in most people's minds. Even though farming operations account for less than 1% of our geographical area, Singapore has a diverse range of farms.
Choose any of them for a breath of fresh air, whether you're searching for a family-friendly weekend activity or an escape from the hustle and bustle of life in the urban jungle.
At Kok Fah Technology Farm, you may learn about both traditional and modern farming methods. Try their innovative ways that utilises the latest technology to enhance efficiency and output without increasing staff or go old school by spreading seeds in the sun.
Continue on with a guided tour (from $14) of the farm, where you'll learn about hydroponics, see an aloe vera demonstration, and participate in activities like succulent potting. You'll get a deeper understanding of the farming business and its importance in making Singapore self-sufficient.
Location: 18 Sungei Tengah Rd, Singapore 698974
Opening Hours: 9.00am – 5.00pm (Sat – Sun)
Open Farm Community is a rustic location in Dempsey Hill that encourages local farming while also connecting the community to nature. It's a farm, a café, a playground, as well as an event space.
While you may walk the grounds and look at the many herbs and plants as well as sculptures, be sure to conclude your visit at the greenhouse building, which doubles as a dining area and open kitchen. Everyone will be pleased with the their delicious menu such as house made pastas, as well as the succulent meat and fish served along the fresh green sides taken from the farm.
Location: 130E Minden Rd, Singapore 248819
Opening Hours: 12.00pm – 2.30pm, 6.00pm  – 9.00pm (Mon – Fri) | 11.00am – 3.30pm, 6.00pm – 9.00pm (Sat – Sun)
Citizen Farm is an Edible Garden City project, a neighbourhood collective, and a network of farmers with various growing methods, all working for the community's and beyond's benefit. It promotes sustainable living in all areas by providing companies and individuals with local, fresh, and nutritious products, as well as providing jobs and financial resources to people of all abilities, as well as the socially disadvantaged.
Take this opportunity to volunteer either at their Queenstown Farm or Raffles City Rooftop Farm and assist with tasks like planting and farm maintenance. Not only is this a unique experience, you can get your hands dirty and still give back for a good cause.
Location: 130E Minden Rd, Singapore 248819
Opening Hours: 9.00am – 6.00pm (Mon – Fri)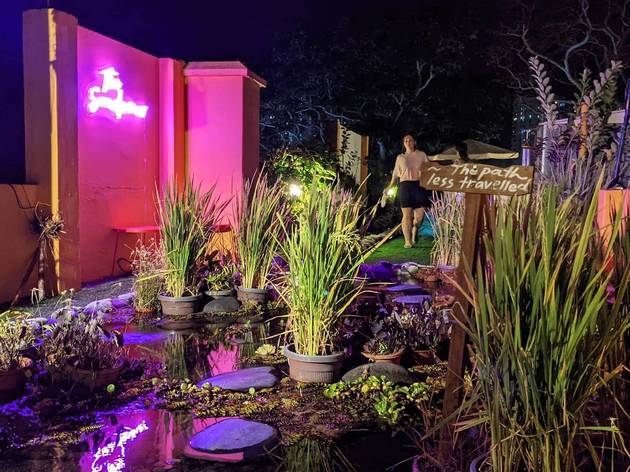 The Sundowner offers a three-in-one rooftop urban farming experience. This shophouse's roof has been turned into a farm, equipped with streams, herbs and edible plants, beehives, and a cosy lounge space, and is located along Siglap's fashionable restaurant row.
If you are interested in getting an up close and personal farming experience, they offer an organic farming demonstration, a session with foraging bees, honey tasting, and 'sundowner' soothing cocktail of drinks mixed with herbs from the garden, with the sunset as a background included in their rooftop farm experience package (from $115/pax).
Location: 705A E Coast Rd, Singapore 459062
Opening Hours: Depends on what slots are available (Reservations required)
Ivy Singh and her husband Lim Ho Seng started the farm in 2000, and it has since grown to become one of the island's most beloved farms. Bollywood Veggies has flourished over the years to include a cooking school and a museum in addition to its organic products.
There's even a cafe that serves food grown without the use of harmful fertilisers or pesticides in the garden. Try their Warrior's Tasting Platter ($6) which includes their delicious Banana cake, Kueh Bingka, Kueh Kosui. For a heartier meal, get their Nasi Lemak Platter (from $12) which includes a wide offering of chicken wings, sambal goreng, ikan bilis, peanuts and more served with blue pea rice. Trust us, it doesn't get much more natural than this.
Location: 100 Neo Tiew Rd, Singapore 719026
Opening Hours: 7.00am – 5.00pm (Thu – Fri) | 7.00am – 7.00pm (Sat – Sun) (Closed temporarily due to the pandemic)
Although, we might be living here for the entirety of our lives, there are things we still don't know about our lovely city. So grab a bag, some bug spray, your green thumb, and head down for some agricultural fun!