Summer lasts all year in Singapore, so there's always a reason for you and your kids to eat ice cream or swim in a public pool. Here are some water parks you can visit as a family.
This outdoor playground has only one goal, to have everyone soaked. Water tunnels, stepping springs, and different sized jets are available for you to cool down in Singapore's sweltering heat or feed your naughty side and hose down everyone else. Even toddlers can partake in the aquatic fun, thanks to a secure play area where you can feel safe letting them run about.
Location: 18 Marina Gardens Dr, Singapore 018953
Opening Hours: 9.00am – 7.00pm (Tue – Sun) | Free Entry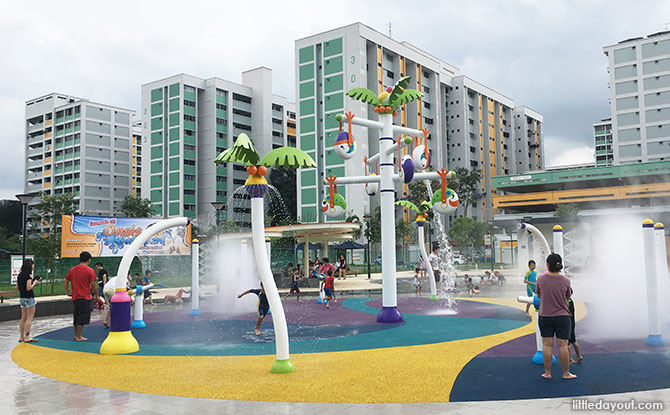 This enormous water park in the heartlands is separated into three major play zones furnished with water sprays and buckets, a small pool, and giant board games, and is just a stone's throw from Yishun MRT station. Parents may stretch their feet on the various seats while their children burn off some energy while splashing about. There are also lots of shady spots and umbrella deck chairs where you can take a break from the sun and help apply sunscreen on your little ones.
Location:  Blk 307 Yishun Ring Road 
Opening Hours: 10.00am – 10.00pm (Mon – Sun) | Free Entry (Call 6758 0129 for booking)
Sembawang Hot Spring Park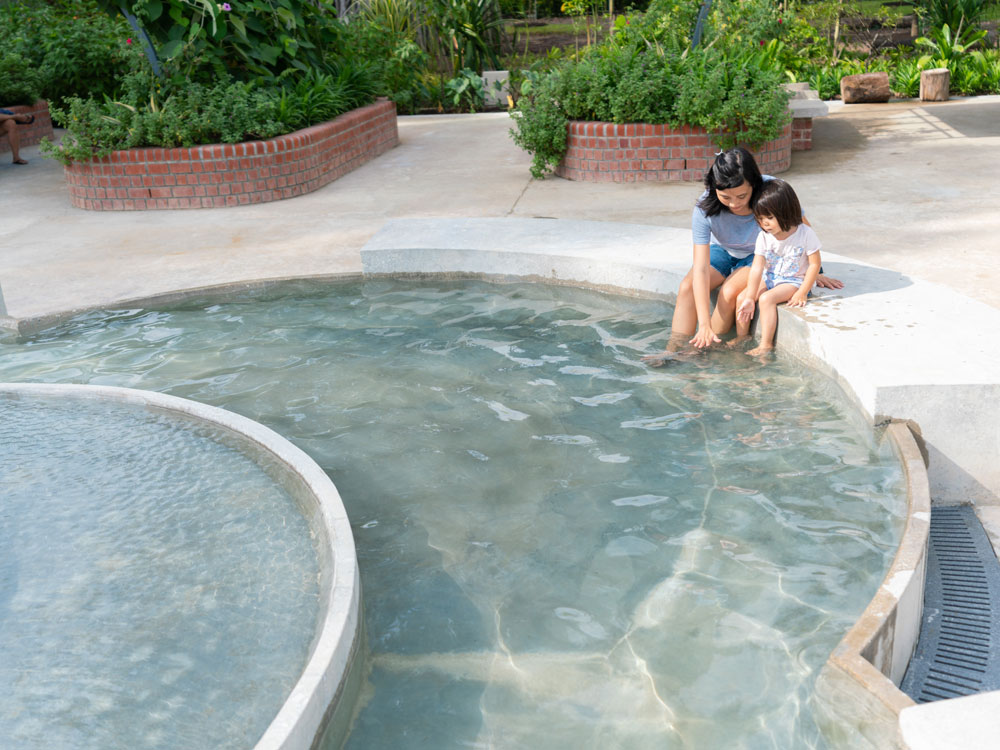 Although it is not a true water park, you may still enjoy the soothing practice of soaking your feet in hot waters at the pool or in the wooden basins offered. You also may bring your eggs down and boil them in the hot spring water if you want to try the traditional Japanese method of creating onsen tamago (onsen means "hot spring" in Japanese). The Sembawang Hot Spring Park is also a fantastic spot for guests to learn about the area's history and geology while wandering through the fruit trees and edible plants.
Location:  Along, Gambas Ave
Opening Hours: 7.00am – 7.00pm (Mon – Sun) | Free Entry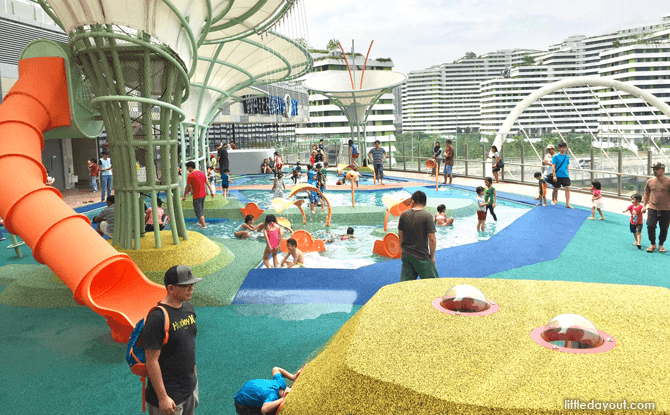 This playground, which overlooks Punggol Waterway Park, offers both wet and dry play spaces for the kids to jump around so they don't get wet all day. A river loop with running water, a lake, an island, and a bridge are all part of the wet play area. Keep an eye out for your kids as they take on a difficult water obstacle course or just slide down the playground's cascading landscape's child-friendly rubber surfaces.
Location:  83 Punggol Central, Singapore 828761
Opening Hours: 10.30am – 8.00pm (Mon – Sun) | Free Entry
At Singapore's first floating aqua park, live out your greatest Wipeout fantasies. The huge inflatable playground and obstacle course, which is located just off Sentosa's Palawan Beach, allows both kids and kidults to climb, slide, leap, and bounce. Imagine a giant bouncy castle in the water. The water park is divided into four zones of various difficulty levels to ensure that everyone has a good time.
Location:  60 Palawan Beach Walk, Singapore 098498
Opening Hours: 12.00pm – 6.00pm (Mon – Fri) | 10.00pm – 7.00pm (Sat – Sun)
Price: $10 for 2 hours (5-8 years old), $18 for 2 hours (9 years old and up)
Just be sure to stay safe especially during these times of uncertainty (leave if it's too crowded) and keep an eye on your kids while they are splashing away. If you are interested in learning about more things you can do during your down time here in Singapore, do check out the many more articles we have here.