Many people believe that following a vegan diet means eating raw vegetables or expensive sweets like acai bowls. Vegan cuisine, on the other hand, can be so much more. The world of vegan cuisine is increasing, and it is becoming one with more possibilities than you can think, from burgers to Rendang.
Love Handle Burgers is a meat-free take on typical fast-food selections.   Aside from the standard cheeseburger ($12.50) and mushroom-and-cheese patties ($17), the establishment also offers a plant-based version of the night market classic: the Ramly burger ($15). The gooey mess is piled high with melted vegan cheese, eggless frittata, and garlic aioli and barbecue sauces. Even the sides, such as the tempura broccolini ($7.50) and cream spinach-loaded fries ($9), as the name states, are made with greens.
Location: 8 Ann Siang Hill, Singapore 069788
Opening Hours: 11.00am – 10.00pm (Mon – Wed) | 11.00am – 10.30 (Thu – Sat)
While this isn't strictly a vegan restaurant as it does serve 'white meat' like fish, the menu is primarily comprising of vegetable-centric meals. The variety of options will astound you, demonstrating that eating healthy doesn't have to be restrictive. Raw food entrées include zucchini pesto spaghetti ($14) and taco boats ($16) with guacamole, mango salsa, and 'meatballs.' You can even eat burgers and wholemeal pizza without feeling guilty or hungry afterwards. Also, don't forget to stop by their second-floor shop space to stock up on more healthy dining supplies.
Location: 779 Bukit Timah Rd, Singapore 269758
Opening Hours: 10.00am – 7.00pm (Tue – Fri) | 9.00am – 7.00pm (Sat – Sun)
The Vegetarian butcher, which may sound like an oxymoron, provides the masses with an extensive variety of meatless alternatives, produced with soy, lupine, and vegetables. Those who find it difficult to give up meat should give The Vegetarian Butcher's curious creations a try. NoChicken Nuggets and Waffles ($8), Fiery Mala NoMeatball Pasta ($13), NoBeef Rendang Shepard's Pie ($12), and more are among the menu's highlights that have been said to covert 'carnivores' to vegetable lovers.
Location: 2 Jurong Hill, Singapore 628925
Opening Hours: 8.30am – 5.00pm (Mon – Fri) | 7.30am – 6.00pm (Sat – Sun)
The Kind Bowl provides hearty meals that are also good for the waistline and the environment. The pho, banh mi, salads, and other dishes on this plant-based Vietnamese eatery's menu are made using sustainable, ethical ingredients. The Kind Pho ($9.80) features a rich soup topped with shredded seitan, grilled oyster mushrooms, sprouts, and herbs or try the BBQ Delight ($12.80), a tangy, dry variation of the popular noodle dish.
Location: 71 Killiney Rd, Singapore 239527
Opening Hours: 11.30am – 2.30pm, 5.30pm – 9.30pm (Mon – Thu) | 11.30am – 9.30pm (Fri – Sun)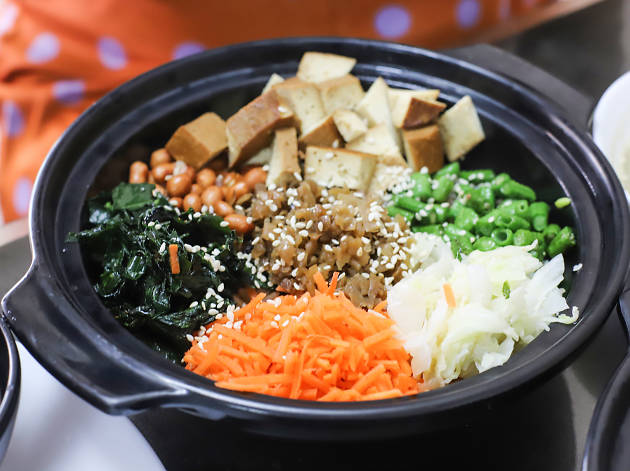 This little vegetarian restaurant, situated on the second floor of Fortune Centre, has long been a local favourite for its home-cooked, plant-based fare. From bibimbap ($7.90) prepared with handmade kimchi to rice topped with a sesame-ginger soup and monkey head mushrooms  ($7.90), the diverse menu has something for everyone. You won't miss meat with dishes like handcrafted 'unagi' ($6.90), vegan oyster omelette ($6.90), and claypot 'salted fish' rice ($7.90).
Location: Fortune Centre #02-31,, 190 Middle Rd, Singapore 188979
Opening Hours: 11.00am – 8.30pm (Thu – Sun)
Vegan food alternatives are abundant and diverse, with many of them being so good that even meat-eaters would recommend them. Do yourself a favour and skip that steak lunch and try food from one of these eateries.