It's crucial to make a strong first impression, whether it's on a first date or at a job interview. Having said that, grooming ourselves is something we should do on a regular basis. However, you may have been skimping out with those $5 haircuts, but it's only fair to treat yourself to a soothing gentlemen's barber experience at least once in your lifetime. Here are some barbers you should visit in Singapore.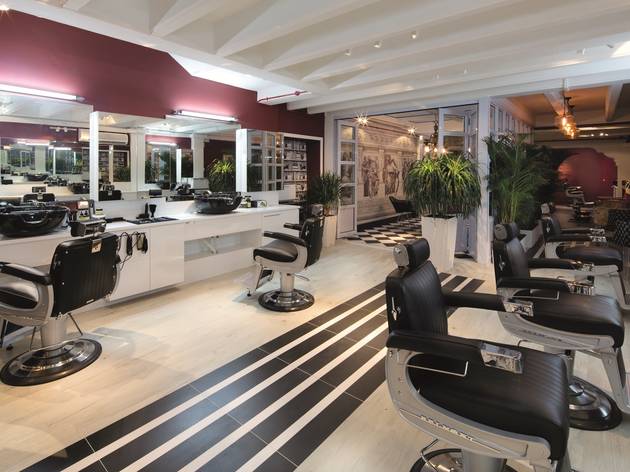 The name of this shophouse barbershop comes from London's famous Jermyn Street, which is recognised for its gentlemen's stores committed to British ingenuity and workmanship. Being inspired by arguably the top men groomers and stylist, you can only expect the best.
The interior is bright and laden with almost art gallery-like furnishings that complement their crimson chesterfield sofas with natural light flowing in through a glass-walled patio. When you come here, try the Dapper Duke ($65), Jermyn Street's most popular service is a wash, cut, and style. The name highlights Jermyn Street's royal ties, which each treatment being named after a rank in the British royalty system.
Location: 108 Amoy St, Singapore 069928
Opening Hours: 10.00am – 8.00pm (Mon-Tue and Thu-Fri) | 7.00am – 8.00pm (Wed) | 9.00am -7.00pm (Sat)
When their girlfriends go on long shopping sprees, Premium Barbers is the answer for men with a lot of spare time. The male salon, conveniently located in Orchard Gateway and Wheelock Place, is designed to seem like a no-frills American-style barbershop, with attractive monochromatic colours.
While you can get hair cuts ($50), conventional shaves ($50), and beard trims ($35) at most barbershops, Premium Barbers stands out by offering spa treatments like head massages ($35), ear cleaning ($40), and even a purifying mud facial ($75).
Location: 501 Orchard Rd, #02-23 Wheelock Place, Singapore 238880 | 277 Orchard Rd, #04-12, Singapore 238858
Opening Hours: 11.00am – 8.00pm (Mon – Sun) at Orchard Gateway  | 10.00am – 8.00pm (Mon – Sun) at Wheelock Place
It's fairly exciting, getting groomed at Hombre Barbers SG. They provide unusual hairstyles such as cutting and shaving your hair into elaborate designs, in addition to traditional haircuts (starting at $28). It won't matter, though, if your pompadour looks this fantastic.
For only $42 you can get the Premium Hombre Cut, the treatment includes a hair wash, face massage, haircut, and style so you can leave the barbershop looking great. You can count on steady hands, creative flare, and meticulous attention to detail.
Location: 228 Changi Rd, #01-04, Singapore 419741
Opening Hours: 12.00pm – 9.00pm (Mon, Wed and Thu) |  2.00pm – 10.00pm (Fri) | 10.00am – 9.00pm (Sat – Sun)
Although there are no gangs here, the crew at this vintage motorcycle-themed barbershop will give you one heck of a trim. If you're looking for the ideal pompadour with a fade, look no further than here, where they satisfy customers with the hallmark style, coupled with the crowd's favourite slick back. Prices start from $30 for a beard trim and you don't have to worry about the quality of products as they are fully equipped with O'Boy hair pomade, and O'Boy moustache wax.
Location: 47 Tanglin Halt Rd #01-313 Singapore 141047 | 68 Yio Chu Kang Road, Singapore 545569
Opening Hours: 11.00am – 8-00pm (Mon – Fri) | 10.00am – 6.00pm (Sat – Sun)
Although they have 3 locations around the country, Sultans of Shave's North Canal location's inconspicuous entry leads to a huge store area with navy blue walls, dark wood accents, and gold embellishments suited for royalty. Lewis Lim and his six-member crew, inspired by traditional British barbershops, provide out of this world shaves and haircuts.
The most popular service is the Sultan's Shave ($65), which includes a shave and a quick facial to refresh you. For washing and styling, expect quality products from American Crew, Baxter of California and Byrd Hairdo.
Locations: North Canal Road | Orchard Road | Duxton Road | Jewel Changi Airport
Opening Hours: 10.30am – 9.00 pm (Mon – Fri) | 11.00am – 6.00pm (Sat) timings may vary based on location
For some who just want to get it over with, getting a haircut can be a tedious affair. It may, however, be an enjoyable experience in and of itself if you visit any of these groomers. You will not only appear smart and suave for crucial appointments, but you can also unwind a little while getting cleaned up at these gentlemen's barbers.